Last Updated on February 2, 2023 by Dee
For many people, the ability to draw is seen as a natural talent. You are either born with the ability to draw or you're not. This isn't always the case though! Anyone can learn how to draw if they have the right tools and tips.
In this blog post, we will discuss 10 essential tips for beginner artists that will help them improve their skills and become better at drawing. With enough practice, anyone can learn how to draw!
Table of Contents
Can Anyone Draw?
The ability to draw is often seen as a natural talent, reserved only for those with an innate creative skill.
However, the reality is that anyone can learn to draw, with enough practice and dedication.
With consistent practice and plenty of patience, even the most basic sketches can evolve into beautiful works of art.
Whether you're looking to develop your own artistic skills or just want to capture the beauty of your surroundings on paper, learning how to draw can be a rewarding experience that opens up a whole new world of possibilities.
So don't be intimidated by the idea of drawing – with enough focus and determination, anyone can become an accomplished artist!
Is Drawing a Natural Talent?
Many people believe that drawing is a natural talent that one is born with, or lacks entirely.
In reality, however, drawing is simply the process of translating what we see into a visual representation. It is basically a learning process.
Every great artist must begin somewhere, and with enough time and dedication, anyone can learn to draw.
This misconception stems from the fact that many people have had early exposure to art forms such as painting or sculpture, where success depends largely on natural talent.
By contrast, individuals who are new to drawing must first develop their skills and build a repertoire of techniques.
Talent may well make the learning process easier, but it is no guarantee of success. Someone can be naturally talented but have no desire to improve.
With practice and feedback from others, it is possible for anyone to become an artist – regardless of whether they are naturally gifted.
In short, there is no such thing as being a "natural" drawer. Improving your drawing skills comes down to hard work and determination!
10 Essential Tips for Beginner Artists
1. Start with simple shapes and lines.
To create an amazing work of art, it is essential to start with the basics. All students in art school learn that before you can begin adding texture and color, you first need to master the foundational principles of drawing and painting.
These start with simple shapes and lines, which are the building blocks of all great pieces. With careful attention and practice, anyone can master these basics and go on to create truly stunning works of art.
Whether you prefer sketching in charcoal or splashing bold paint across a canvas, learning the foundations of drawing and painting will help unlock your full creative potential.
So if you are looking to express yourself through art, start by focusing on the simple shapes and lines that form the foundation of every masterpiece.
Art school can be expensive, but there are a number of free online resources that can teach you the basics of drawing and painting.
One great place to start is with the "Drawing for Beginners" course from Udemy, which covers everything from choosing the right materials to basic sketching techniques.
2. Experiment with different mediums and techniques.
Some artists have the innate talent and skill to work with any medium or technique they choose.
However, to truly master their craft, they must be willing to experiment and take risks.
Whether they're trying a new type of paint or working on an unconventional surface, such as metal or glass, these artists are always pushing their limits in order to grow and evolve as artists.
What is the Right Digital Art Canvas Size? Important things to Consider to Make the Best Choice.
Through experimentation, they can discover new ways of seeing the world, develop a deeper appreciation for their chosen media, and uncover unexpected possibilities for creating meaningful works of art.
So if you want to become a good artist, don't be afraid to explore different mediums and techniques – the results may just surprise you!
3. Use reference materials.
While many people see art as something that is created spontaneously, without any reference materials or outside inspiration, the truth is that a good artist draws on existing materials to create their work.
Indeed, all great works of art are informed by a rich cultural legacy and reflect the experiences of the artist.
Moreover, many artistic processes rely heavily on research, whether it be in the form of extensive historical study or practical experimentation with different media and techniques.
So if you want to create truly meaningful and impactful art, you need to make sure that you take the time to explore your influences and experiment with different methods and materials.
Portrait drawing can be a great way to practice using reference materials.
One exercise that can help you improve your skills is to choose a portrait from a magazine or online and then draw it yourself without looking at the original.
This will force you to really study the subject matter and think about how best to capture their likeness.
With this approach, you can push the bounds of your creativity and craft truly original pieces that everyone will admire.
4. Find your own style.
There is no one correct way to be an artist. Whether you are a painter, a photographer, a sculptor, or something else entirely, the most important thing is to find your own unique style and express yourself through your art.
Try some figure drawing, portrait drawing, or draw animals to explore different subject matter and find a theme you can begin drawing and improve your drawing skill.
On your drawing journey, you will inevitably encounter people who try to tell you what is and isn't "good art."
Ignore these people and focus on finding your own voice as an artist.
What matters is that you are creating something that is meaningful to you and that reflects your own unique perspective on the world. Not everyone will understand or appreciate your art, but that doesn't mean it isn't worth making.
Whether this means using bold colors and abstract forms, experimenting with different techniques and tools, incorporating personal influences and experiences into your work, or breaking away from convention altogether, everyone has their own way of creating beautiful pieces that truly speak to their vision and creative process.
If you want to draw animals, look for inspiration in nature documentaries, zoos, and animal sanctuaries.
If you're more interested in portraits, find inspiring images of people from all walks of life – the sky's the limit!
So don't be afraid to try new things, explore different materials and media, and discover your unique voice as an artist.
After all, finding your own style of art-making is what makes the creative process so exhilarating – and so rewarding.
5. Be patient and don't expect perfection.
As anyone who has ever tried to draw knows, it can be a challenging and frustrating process.
Drawing requires great patience and attention to detail, and there is often no right or wrong way to do it.
This means that you should not expect perfection when you are drawing – instead, try to stay focused on the process itself and learn from your mistakes as you go.
Drawing skills can be improved with time and practice, so don't get discouraged if your early attempts are not as successful as you would like them to be.
If you want to improve your drawing skills, the best thing you can do is keep at it.
Whether you are starting out with simple sketches or working on complex illustrations, always remember to take your time and enjoy the creative process.
With practice, you will find that your skills develop over time and that your drawings become increasingly polished and refined.
So don't let frustration or self-doubt get in the way of your artistic journey – just keep practicing, and trust in the power of patience!
6. Take breaks when you need them.
Though it may seem counter-intuitive, taking breaks from your drawing can actually help to improve your focus and concentration.
When we work on a task for too long, our minds can become restless and our attention can wander.
However, if we take a break, even for just a few minutes, we can come back to the task with fresh energy and a renewed sense of purpose.
In addition, taking regular breaks can help to prevent eye strain and fatigue, both of which can impede our ability to produce good work.
So next time you feel your attention start to wander, step away from your drawing board for a few minutes and give yourself a chance to refresh and recharge.
You'll be surprised at how much better you'll be able to work as a result.
7. Practice, practice, practice!
As any artist will tell you, consistent practice is essential to developing your skills. The more you draw, the better you will become at seeing the world around you in terms of line, shape, and form.
And the better you become at seeing the world around you in terms of line, shape, and form, the better your drawings will be.
Of course, it can be difficult to find the time to practice when you're busy with other things.
But even a few minutes a day can make a difference. So set aside some time each day to work on your drawing practice, and you'll be sure to see improvement over time.
Drawing skills are like any other skills – they take time and effort to develop, but with practice, anyone can learn to draw well.
If you want to learn figure drawing then you should practice drawing people from real life, or from photographs.
8. Get feedback from other artists (or go to an art teacher)
As any artist knows, feedback is essential for growth.
It can be difficult to get an objective perspective on your own work, and other artists can offer valuable insights into your strengths and weaknesses.
Moreover, seeing how others react to your work can help you to better understand your own artistic vision. Feedback can come from a variety of sources, including art teachers, mentors, and fellow students.
However, it is also important to seek out feedback from other artists who are not directly involved in your creative process.
These outside perspectives can provide fresh perspectives that can help you to take your work to the next level.
9. Enter art competitions.
Art competitions provide an excellent opportunity for artists to showcase their talents and receive feedback from their peers.
Moreover, winning an art competition can help to raise your profile and boost your career.
While the prospect of entering a competition can be daunting, the rewards can be well worth the effort.
Your drawing skills will improve as you compete with other artists, and you'll also have the chance to build your portfolio and increase your visibility.
So if you're looking for a challenge, consider entering an art competition – you may be surprised at what you can achieve.
To maximize your chances of success, it is important to choose a competition that is well-suited to your style of art.
Additionally, be sure to read the rules carefully and follow all submission guidelines.
With a little planning and preparation, you can increase your chances of coming out on top in an art competition.
Check out this great video on Sketching Basics…
10. Keep a portfolio of your work.
Whether you are a hobbyist who enjoys drawing for fun or an aspiring artist pursuing a career in the visual arts, it is important to keep a portfolio of your work.
This portfolio can serve as a record of your creative development, allowing you to track and celebrate your progress over time.
Moreover, by collecting and organizing all of your artwork in one place, you will be able to easily share your work with others and present yourself as a professional artist.
With careful curation and regular updates, a portfolio can be an invaluable tool for any artist looking to advance their craft and build their professional reputation.
Whether you sketch with pencils or use digital software, there is no better way to display your skills and showcase your talent than by creating a beautiful collection of your very best artwork.
Frequently Asked Questions about Learning to Draw…
Do professional artists need drawing practice?
Just like any other skill, the ability to draw well requires practice.
Even professional artists who have been drawing for years still make time to practice their craft.
Practice helps to keep your skills sharp and can also help you to explore new techniques and styles.
Can you keep improving at drawing?
Yes! Drawing is a skill, and like any other skill, it can be improved with practice.
The more you draw, the better you will become at seeing the world around you in terms of line, shape, and form.
How long does it take to learn drawing?
This is a difficult question to answer, as everyone learns at different rates.
Some people may be able to pick up the basics of drawing fairly quickly, while others may need more time to develop their skills.
In general, however, it is important to remember that practice makes perfect.
Can you learn to draw at any age?
Yes! There is no age limit on learning to draw.
Whether you are a child, teenager, or adult, anyone can learn to draw with enough practice.
Is drawing a skill?
Yes, drawing is definitely a skill.
And like any other skill, it can be improved with practice.
Why is it so hard to draw?
Drawing can be difficult because it requires both motor skills and visual-spatial ability.
Motor skills are the ability to control your muscles, while visual-spatial ability is the ability to see and understand the world around you in terms of line, shape, and form.
Are artists introverts?
There is no one answer to this question, as there are introverts and extroverts in every profession.
However, it is worth noting that many artists enjoy working alone and may prefer to spend time in their studios rather than socializing with others.
This does not mean that all artists are introverts, but it is something to keep in mind if you are interested in pursuing a career in the arts.
Are all artists emotional?
Again, there is no one answer to this question.
While some artists may be highly emotional, others may be more reserved.
It is important to remember that everyone expresses their emotions in different ways and that not all artists are the same.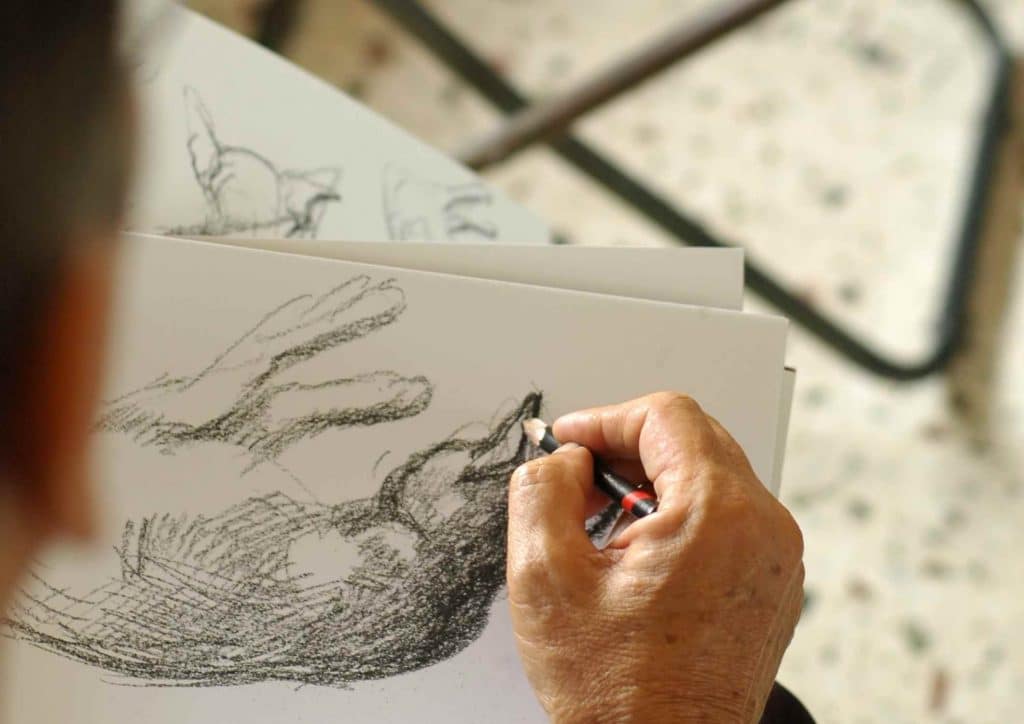 Is drawing good for your brain?
Yes! Drawing can actually be good for your brain.
Studies have shown that drawing can improve cognitive skills, such as problem-solving and memory.
In addition, drawing can also help to reduce stress and anxiety.
[Related Article: 121 Fun and Easy Objects to Draw]
Is drawing someone hard?
This depends on your skill level.
If you are a beginner, drawing someone may be more difficult than if you are more experienced.
That being said, even experienced artists can find it challenging to capture the likeness of another person in their drawings.
Can you get good at drawing If you're bad?
Yes! Anyone can learn to draw, no matter their skill level.
Remember, practice makes perfect.
If you keep at it, you will see your skills improve over time.
Why is my drawing so bad?
This is a common question, and there can be a few reasons why your drawings may not be looking the way you want them to.
First, it is important to make sure that you are using the right supplies.
If you are using pencils, for example, make sure that they are sharpened properly.
Second, it is also important to make sure that you are using the right techniques.
If you are unsure of how to do something, there are plenty of resources available (such as books, online tutorials, etc.) that can help you out.
Finally, don't forget to practice! The more you draw, the better
Is drawing easier than painting?
This is a difficult question to answer, as both painting and drawing can be challenging in their own ways.
It is worth noting, however, that painting often requires a greater level of precision than drawing, as you have to worry about choosing the right colors and applying them evenly to your canvas.
Drawing, on the other hand, can be more forgiving, as you can use a variety of mediums (such as pencils, charcoal, etc.) to create your masterpiece.
At the end of the day, it is up to the individual artist to decide which medium is right for them.
[Related article: The Ultimate List of 50 Fun Things to Draw When Bored!]
Why do people draw?
People draw for a variety of reasons.
Some people may enjoy the challenge of trying to capture the world around them in a drawing, while others may find that drawing helps them to relax and destress.
Is it true that everyone can draw?
Yes, it is true! Anyone can learn to draw, no matter their age or skill level.
All you need is a little practice and patience.
Is drawing a talent or skill?
Drawing can be a natural, inborn talent, or it can be a learned skill.
Can someone with no artistic ability learn to draw?
Yes! Drawing is a skill that can be learnt by anyone.
Can you teach yourself to draw?
Yes, you can teach yourself to draw.
All you need is a little patience and practice.
There are also plenty of resources (such as books, online tutorials, etc.) available to help you out.
Conclusion
If you have been wondering "can anyone draw?", drawing is a skill that can be learned by anyone with patience and practice. While some people are born with a natural talent for drawing, everyone can improve their technique with the right instruction.
For those who want to learn how to draw, there are a variety of resources available, including books, online tutorials, and classes. The best way to improve one's skills is to practice regularly and to seek out feedback from more experienced artists.
By taking the time to learn how to draw, anyone can develop their own unique style and create beautiful works of art.
Other articles you may enjoy…
121 Fun & Easy Objects to Draw
[How to Improve Your Digital Creations | 22 Digital Painting Tips]
[11 Anime Pose Reference Images to Improve Your Art]
Sitting Drawing Reference | 18 Free Poses to Use for Figure Drawing
101 Cool Designs to Draw | Easy Ideas for Drawing Fun
How to Draw a Background | 11 Easy Tips for Beginners
Upside Down Drawing – Get Better at Drawing now!
Learn How to Start Drawing – 22 Easy Tips to Get you Started!