Last Updated on August 22, 2023 by Dee
Why draw on black paper?
Black paper is a great surface to draw on because it offers you a very different art-making experience. White paper (or canvas) is really the norm in terms of a drawing surface, so by exploring black paper drawing we extend our creative thinking and push new boundaries in our art-making.
Drawing on black paper offers us a new challenge to grow and develop our drawing skills. Mostly it's a lot of fun and with the right medium drawing on black paper can be beautiful and striking. This can be a great addition to an art journal or sketchbook; it can be gifted to a friend or exhibited and sold.
Tips to remember when drawing on black paper
Work light to dark
To create a realistic drawing, you must work on developing your light and dark areas as accurately as possible.
Start working on your lightest areas first to develop the forms in your subject matter.
To develop different tonal values, you can use shading techniques like stippling, cross-hatching, hatching, or scribbling. [If you want to find out more about shading techniques you can read my article on How To Start Drawing]
Your lightest areas are the areas you build up with your white pencil/pencil. The dark areas (or shadows) will be the black paper you left untouched.
[Related: 18 Texture Drawing Examples]
You can't erase
This is partly true. When drawing in pen or colored pencil, it is very difficult to neatly and cleanly erase the marks of the black paper surface. I like to start my drawings with a light lead pencil outline to get accurate form and proportion before I start layering the white/colored pencil/pen.
I recommend using a 2B lead pencil because the lead core is soft and you don't have to apply a lot of pressure on the page to make a mark – this also means it is a lot easier to erase if necessary.
If you are working in white charcoal, it is easier to erase charcoal areas off the black paper. Just remember to always work with light pressure using gentle strokes.
Remember where your light source is coming from
This is a very important factor to consider whenever you are doing a realistic drawing or painting. Identify where your light source is coming from. In other words, is the light hitting your subject matter from the top left-hand side? Or is the light falling on your subject matter from the lower left-hand side?
Remember that the areas of your subject matter that are exposed to the light will be the areas in your drawing where you use your white or lightest values. Your dark areas will be opposite and behind the light areas.
Test out your chosen medium before you begin
As with all art mediums I recommend you test them out before you begin. Spend some time playing with scribbling or doodling on black paper.
Allowing yourself to explore the mediums in this way gives you a better sense of the overall effects that you can achieve using a specific medium. It also gives you confidence in your mark-making and will help you better decide what sort of art you want to be making.
**This page may contain affiliate links to products I have used or recommend. If you purchase something from this page, I may receive a small percentage of the sale at no extra cost to you.**
Which black paper to draw on?
I am currently using the Derwent Black paper book after it was recommended to me and overall I have found it to be an excellent product. The dark paper has a deep, rich black color which is lovely to work on. The paper has a smooth, silky texture and lends itself to white pen, pencil, and charcoal drawing.
Other black paper I have worked on has tended to discolor with age. However, the Derwent black paper doesn't. This is helpful if you are creating drawings you would like to sell and also if you want your art to remain in good condition for a longer period.
What mediums to use for drawing on black paper?
You can use many different mediums to draw on black paper. Below I have listed my favorite mediums to work with on black paper. I find these to be the most satisfying and effective in terms of aesthetic.
These are my recommended mediums for drawing on black paper
Draw with white charcoal on black paper
I enjoy working with white charcoal on black paper. You can easily create tonal values by grading the charcoal.
Slowly build up layers of white upon white to accentuate your highlights and create a sense of three-dimensionality.
Charcoal is very light on the surface of the black paper which means it can also be easily smudged and wiped off. For this reason, it is important that you take care in working with this medium. Try to be aware of the position of your hand on the page and work in light layers.
[Check out these awesome Charcoal Drawing Ideas]
Fix your charcoal drawing. You can use a professional fixative spray like the Loxely Spray Fixative or a standard cheap hairspray to fix your charcoal. If you are starting out with charcoal drawing just pick up a cheap hairspray from the dollar store (or pound store).
Tip: I always advise my students to start drawing at the top corner opposite their dominant hand. For instance, if you are right-handed, you should start drawing (or painting) from the top left-hand corner. This helps to prevent you from accidentally smudging your drawing or painting. It also helps to give you a clearer, overall view of the subject matter as you draw.
[Related article: 136 Drawing Ideas for Adults]
Drawing on black paper with colored pencils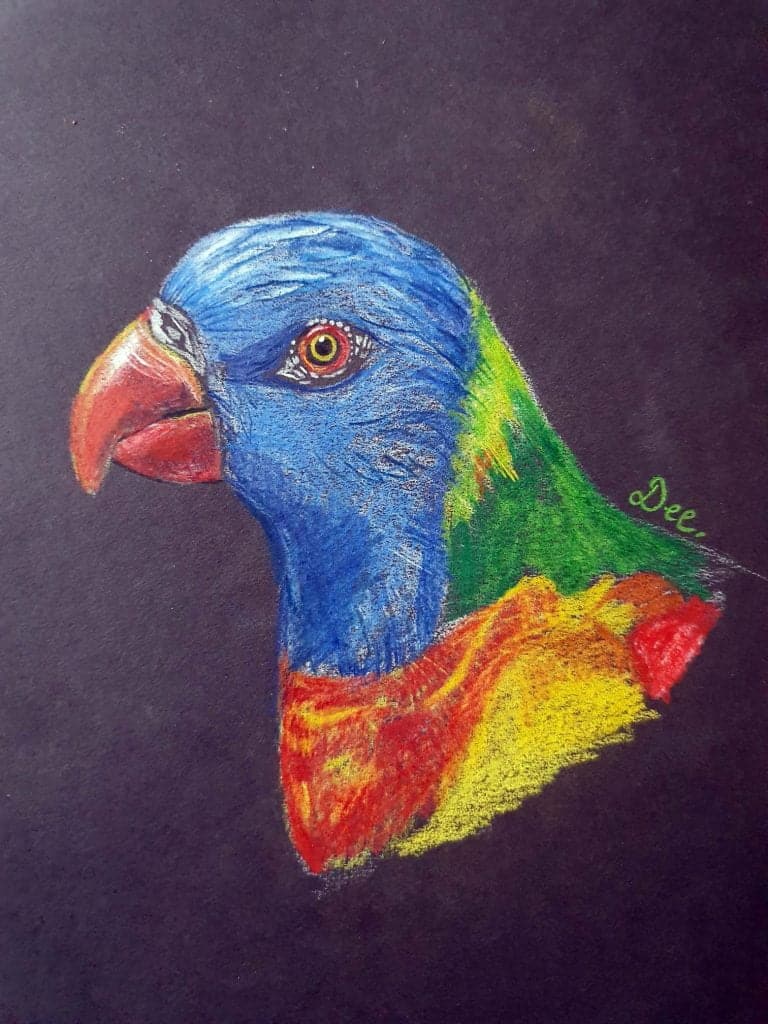 Colored pencil is another lovely medium to work with. It gives you a lot of control, and the colors can be quite easily blended into one another.
You can work on quite an intricate scale with color pencils, and I find they are a great medium to use to capture bright and striking subject matter in the drawing.
Tip: Consider that when you draw with colored pencils on dark or black paper, the black paper absorbs the brightness of your pencil's hues. Use a layer of white pencil beneath the color pencil to make your colors brighter and bolder.
You can also read my article on Drawing on black paper with colored pencil for more detailed advice on this topic if you would like to explore this further.
You can also use black colored pencil to create dark values on the black background. Use a white pencil for light values.
[Related article: How to Draw a Background]
Draw on black paper with white gel pens
If you want to create a bold and striking artwork then white gel pens are the way to go!
As you can see, I had fun testing out line and pattern in my white gel pen drawing below. It is very satisfying using these and you can create some wonderfully therapeutic pattern-like, Zentangle-type art works.
You can also draw realistic subject matter through creating a sense of depth and three-dimensionality using the shading techniques like cross-hatching, stippling, hatching and scribbling to develop tonal value.
Tip: Remember you cannot erase white pen, so I recommend that you start your drawing with a light pencil outline to define shapes and forms. It is also a good idea to get a good white gel pen. Some pens bleed the white gel too much and then it is difficult to get fine detail and consistent line. I recommend the Uniball Signo Pen or the Sakuri White Gel pens.
Draw on black paper with colored pens
For this drawing I used the gold Pentel Hybrid Gel Grip pen (0.8mm). You can get quite a bit of detail with these pens as they have a fine nib and run smoothly on the black paper. Like the white gel pens you cannot erase them and so I would suggest drawing a pencil outline to start.
[Related article: 50 Easy Things to Draw on Your Hand]
Tip: Test out your colored pens before you begin. Certain colors may not be as effective as others. I found the metallic pink and orange to be less striking than the gold, silver and blue.
[Related Post: How to Paint Flowers in pen & Watercolor]
Conclusion
Drawing on black paper can be a fun and satisfying art activity. Explore using the mediums I suggested above. Perhaps you can find other mediums that are as effective for art-making? Let me know if you have tried out any other mediums? I would love to hear about your explorations!
Other articles you may enjoy…
[59 Aesthetic Things to Draw: Art Ideas for Creative Minds]
Check out these amazing colored pencil artists: 14 Amazing Colored Pencil Artists to follow on Instagram (2022) for some more black paper drawing inspiration!