Last Updated on February 7, 2023 by Dee
Are you looking for a sun template? I've put together 8 templates of different styles to get your creative juices flowing. The templates are designed for both adults and children, and they include an assortment of shapes, sizes, and colors. You can use these templates as inspiration or start from scratch!
These sun templates are great to use in all sorts of arts and craft projects because they have bold, simple outlines – easy to transfer onto different kinds of paper or print out and stick into your sketchbook!
Create anything from wall art, cards, paper crafts, and even kids crafts. Print out your sun templates on card stock paper at home (or get them printed professionally) then cut them out with scissors. Put on your homemade tanning oil and let's do some summer crafting! Happy Crafting!
Why are printable templates cool?
*This page may contain affiliate links to products I have used or recommend. If you purchase something from this page, I may receive a small percentage of the sale at no extra cost to you.**
Printable stencil templates are great tools for adults and children alike. They can be printed on any printer, cut out at will, or transferred onto watercolor paper to serve as an outline for a painting.
I have included 8 different sun templates saved in PDF format in A4 size – so printing is easy!
You don't have to mess with your printer settings. Quickly set the size you need!
If you want to print out a sun template on a larger A3 sheet then make sure to 'set to size' on your printer settings.
What do sun symbols represent?
Sun symbols come in many forms. The sun symbol originated from the prehistoric period and is found throughout history, culture, and religion.
Typically, a sun symbol meant light and warmth; without it, we would be living in darkness!
Although there are several variations of sun symbols such as eclipses or umbrae (the dark part of the moon), more commonly you will find the sun represented by a sun disk, or a sun wheel!
Sun symbols are often associated with ancient religions such as Buddhism, Hinduism, and Norse Mythology.
Why choose printable stencil templates?
If you're looking for inspiration then try out one of these templates! Use them as a stencil – just trace around the template by hand – or as a sun outline.
Cut them out and stick them onto your art – the possibilities are endless 🙂
It's easy to add some sunny, summer cheer to your crafting project with these sun templates!
8 FREE Sun Templates!
Single Large Sun Template Printable
A single large sun template – perfect for stenciling onto canvas, paper, glass, or any other surface. This sun template can easily be converted into a sun stencil by printing the image onto mylar and carefully cutting out the shapes.
Cut out the shapes and experiment with different paint techniques and mediums. How about trying to layer different colors?
Single Swirling Sun Template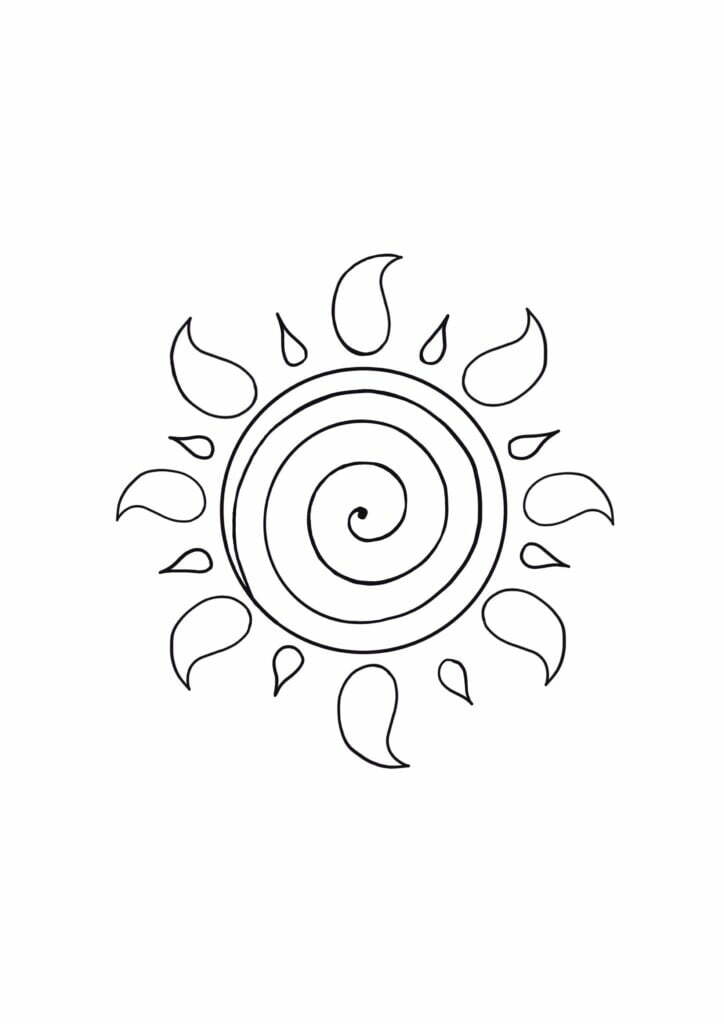 This swirling sun template can be used for card making, art journaling, and crafts!
6 Small Sun Templates
A set of 6 small sun templates perfect for crafts or as a school assignment. These are also ideal for placeholders and gift tags!
Large Smiling Sun Template
Print this on white cardstock, cut out with scissors, hole punch, and hang around your patio or garden with string.
Rainbow Sun Printable
This rainbow sun makes a bright and happy addition to party decor, birthday invitations, posters, or even just wall art!
Single Large Simple Sun Templates
Three Small, Simple Sun Templates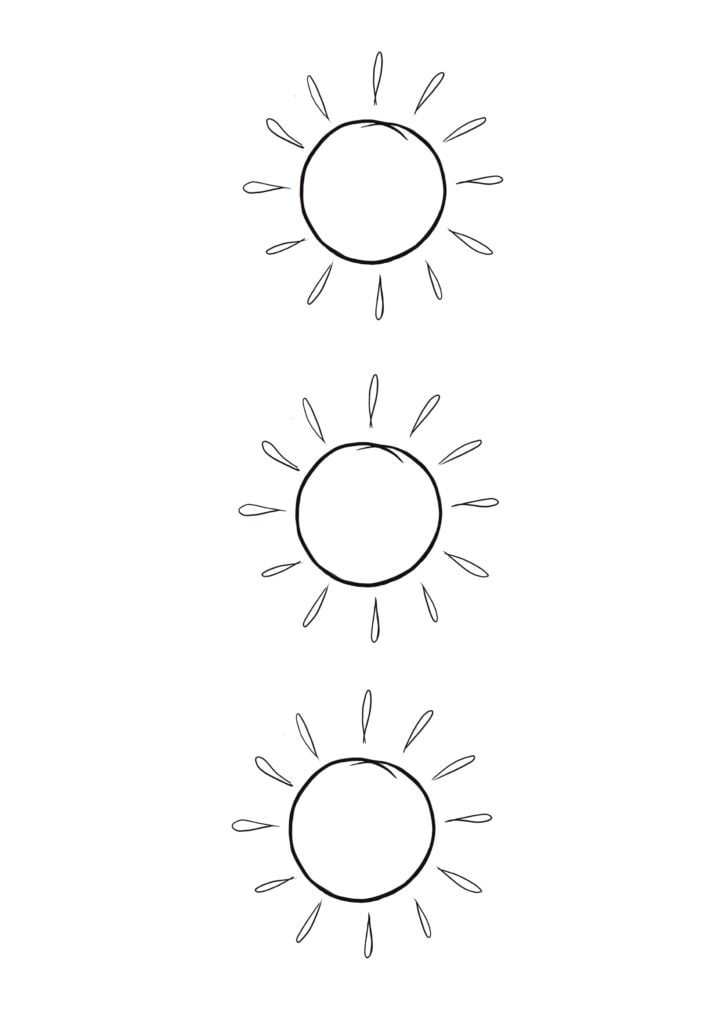 Simple Sun Printable Template
Download and print out your favorite sun template below!
What can you do with your sun template?
All of these sun template printables can be used in your art journal, creative journal, junk journal, bullet journal (I love them all!).
Use them for crafting, school projects, décor, posters, bulletin boards, invitations, wedding stationery), birthday cards… and really anything your mind can conceive of!
Use watercolor brush pens to create a stenciled sun template. I use Arteza Real Watercolor Brush Pens and they are seriously awesome!
This is a fun and easy brush pen project that is great for both children and adults!
Watercolor brush pens are awesome for creating a watercolor effect for art and craft projects.
To help you out, I have put together these printable templates so that all you have to do is transfer the shape onto your watercolor paper and get on with the painting.
If you would like to try this out, you should transfer the sun template to watercolor paper. This is how…
How to Transfer the Sun Template to Watercolor Paper (Method One)
Print out your sun template on standard printer paper.
Tape your printed template to a window with light behind it so that you can see the outline of the pineapple coming through.
Using a soft lead pencil (2B, 4B, 6B, or 8B), trace over the printed outline of the sun template that you can see through the paper. Do this quite firmly so that you have left enough lead on the surface to be transferred easily onto the watercolor paper.
Place your printed sun template with the traced pencil outline face-down on your watercolor paper.
Using your pencil once again, trace the printed sun template outline so that the pencil line gets transferred to your watercolor paper.
Voila! You have your transferred shape, and you don't need to hand-draw it yourself!
Now you can use your watercolor or watercolor brush pens and start your painting!
How to Transfer the Sun Template to Watercolor Paper (Method Two)
Here are some quick steps to get your sun stencil ready to use.
Open your Sun Template PDF and select print.
Choose the size you want to print to.
Print the stencil onto a mylar transparency sheet. (Alternatively, you can print the sun template onto a standard piece of paper and then trace it onto a piece of plastic mylar after)
On a cutting mat, use a craft knife to carefully cut out the shapes of your sun template.
Your stencil is now ready to use.
How to Create Watercolor Stencil Art
Place your sun template or sun stencil on watercolor paper.
Tape down your sheet of watercolor paper using artist masking tape.
If you want to, you can start your watercolor painting by first applying a light wash of color before you begin with your top layer. This can create a lovely layered effect!
Spray the back of your sun stencil using spray adhesive and stick it on your watercolor paper.
Start applying washes of watercolor over the paper and the stencils. You will find that to paint into the crevices, and small spaces of the stencil you need to manipulate your paintbrush. It is important that the watercolor paint doesn't bleed underneath the stencil, so always work with a light touch.
Allow the paint to dry fully before removing the stencil.
Use warm water and soap to gently wash the stencil (if using a plastic watercolor stencil) so that it can be reused and is ready for the next time!
Other Ways to Use your Sun Template Printables
Summer party and pool party decor!
Decorate your patio, lounge, kitchen, or any other room in your house or office with some bright sun art!
Cut out the stencil and paint over it onto cardstock or watercolor paper, using watercolor, watercolor brush pens, or even spray paint.
Print out the sun templates on bright-colored cardstock or paper, cut out the shapes, and create your own sun garland to decorate walls or doorways.
Art Journaling.
Use the sun stencil templates to create interesting shapes, backgrounds, patterns, or focus areas in your art journal.
Invitations.
Color your sun stencil template with markers or watercolor to create a colorful and joyful invitation for a summer-themed party.
Coloring in.
If you like to color in, you can use the sun templates as a fun way to add color and creativity to your doodling.
Stick them on walls or gift wrap for added decoration!
Use the sun template stencils on clothing or fabric.
You can go ahead and print these sun templates directly onto clothing or fabric – create your own sunny shirt!
If you have printed them onto the fabric then cut out the images and sew them onto t-shirts, hats, or bags for some cute themed accessories!
Or use fabric paint over the sun template stencil to create your own homemade apron, table cloth, or bag!
Create Stickers.
Create your own sun stickers by printing the sun stencil template on sticker paper and cutting out the shapes.
You can then use these stickers for anything you like!
Use them as a fun way to label party favors, package up treats in gift bags or boxes, make place cards for your dinner table at any celebration… the possibilities are endless with these printable templates!
Use them for decorating.
Print your sun stencil templates out on the back of the cardstock and use these as decorations for your summer party, or any celebration you like!
Print them on normal paper and cut them out for décor, embellishments, and other crafty projects!
If you prefer to add a bit of color, then print them onto colorful cardstock instead.
Print them on different paper.
Try printing them on texture paper or even tracing paper. You can really get some great effects!
Conclusion
I hope you enjoyed this blog post and found a few new things to try in your next project! If you have any questions or want more information on how to use these templates, please feel free to contact me.
Happy art-making!
Here are some other templates that you might like!
[6 Awesome Black Cat Templates]