Last Updated on November 29, 2023 by Dee
Welcome to a world where the sun always shines, no matter the weather outside! 🌻 If you want to add a summer splash to your art projects or brighten up your living space with some floral charm, you've landed in the perfect spot. In this post, we're unveiling an exclusive collection of 14 Free Sunflower Printables that are stunning and incredibly versatile. Whether you're a seasoned artist, a DIY enthusiast, or someone who adores the cheerful vibes of sunflowers, these templates are designed to spark your creativity and bring your ideas to life.
From simple sunflower heads to full sunflower templates that capture the detailed beauty of these sunny blooms to playful and abstract interpretations, there's something here for every style and project. So, grab your art supplies, and let's dive into a world blooming with inspiration and free sunflower magic!
Table of Contents
14 Free Sunflower Printables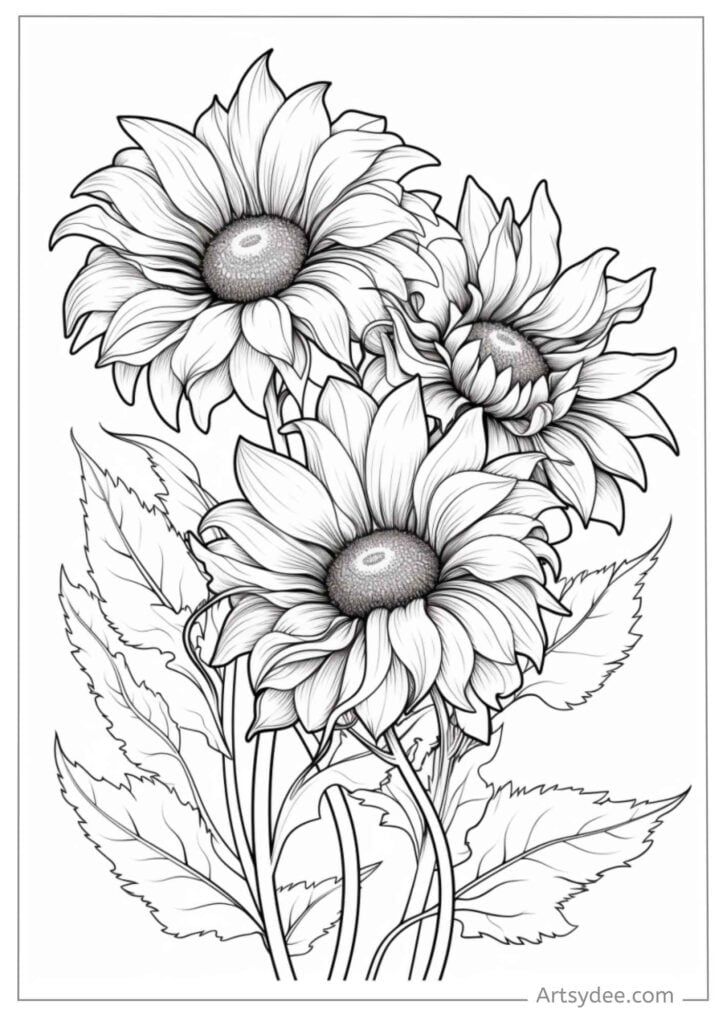 [Related Article: How to Start Your Own Art Journal!]
Sunflower Watercolor Painting
Amongst the many creative adventures you can embark on with printable templates, one of my favorites is using them for watercolor painting. Our sunflower designs, each a celebration of sunflowers' sunny and vibrant spirit, are perfect for artists and crafters who wish to infuse their work with a touch of nature's charm!
Read on for instructions on how to use these templates for watercolor painting or as watercolor stencils.
What do you need before you start watercolor stenciling?
Tape
Paper Towel
A jar of clean water
A heat tool (this is great for speeding up the watercolor paint drying process!)
How to Transfer the Sunflower Outline to Watercolor Paper
Print out your sunflower template on standard printer paper.
Tape your printed template to a window with light behind it so you can see the outline of the sunflower coming through.
Using a soft lead pencil (2B, 4B, 6B, or 8B), trace over the printed outline of the sunflower that you can see through the paper. Do this firmly so that you have left enough lead on the surface to be easily transferred onto the watercolor paper.
Place your printed sunflower template with the traced pencil outline face-down on your watercolor paper.
Using your pencil once again, trace the printed sunflower outline so that the pencil line gets transferred to your watercolor paper.
Voila! You have your transferred shape – and you don't need to hand draw it yourself!
Now you can use your watercolor and start your painting!
Using the Sunflower Printable as a Watercolor Stencil
If you would like to use the sunflower template as a watercolor stencil, then first, you need to print out the design on mylar or transparency paper.
Once you have printed out your design, cut out the shapes of the flower using a craft knife and cutting mat.
Place the stencil on your watercolor paper and test out the position.
If you want to, you can start your watercolor painting by applying a light wash of color before you begin with your top layer. This can create a lovely layered effect!
If you are happy with the position, spray the stencil using repositionable craft spray.
Firmly place the sticky stencil onto your watercolor paper.
You can now start painting washes of watercolor paint over your page. You will find that to paint into the crevices and small spaces of the stencil, you need to manipulate your paintbrush. The watercolor paint mustn't bleed underneath the stencil, so always work with a light touch.
Allow the paint to dry fully before removing the stencil.
Use warm water and soap to wash the stencil gently (if using a plastic watercolor stencil) so that it can be reused and is ready for the next time!
Other ways to use these sunflower printables…
Print them out and color them in!
Print them on sticker paper
Print them on normal paper and cut them out for décor, embellishments, and other crafty projects!
Print them on other paper – try printing them on texture paper or even tracing paper. You can get some great effects!
Related Post: A List of the Best Junk Journal Supplies
Grab the Free Sunflower Templates HERE (below)!
To access the free in-post printables for this post, you'll just need to create a free account or log in with the Grow.me tool. Then, confirm by email and refresh the page, and ALL my free printables will automatically unlock in every post!
Other free templates you may enjoy…
21+ Free Adorable Cow Coloring Pages for Moo-velous Fun!
20 Heart Templates | FREE Printables for Your Creative Projects!
25+ Fabulous Flower Templates | FREE Printables for Your Creative Projects.