Last Updated on May 26, 2023 by Dee
Looking to spark creativity in your little ones, or perhaps seeking a fun, relaxing hobby for yourself? Dive into our vibrant collection of over 100+ Minions coloring pages designed for both traditional and digital mediums!
Whether you're a fan of the classic crayon and paper approach, or you prefer modern digital tools like Procreate, we have you covered.
With the Minions' playful nature, every coloring page is an exciting adventure waiting to be colored in your unique style. These coloring pages are a fantastic way to enhance your artistic skills and make a perfect bonding activity for families and friends. So, unleash your creativity and add a splash of color to the lives of the iconic Minions!
100+ Minions Coloring Pages PDF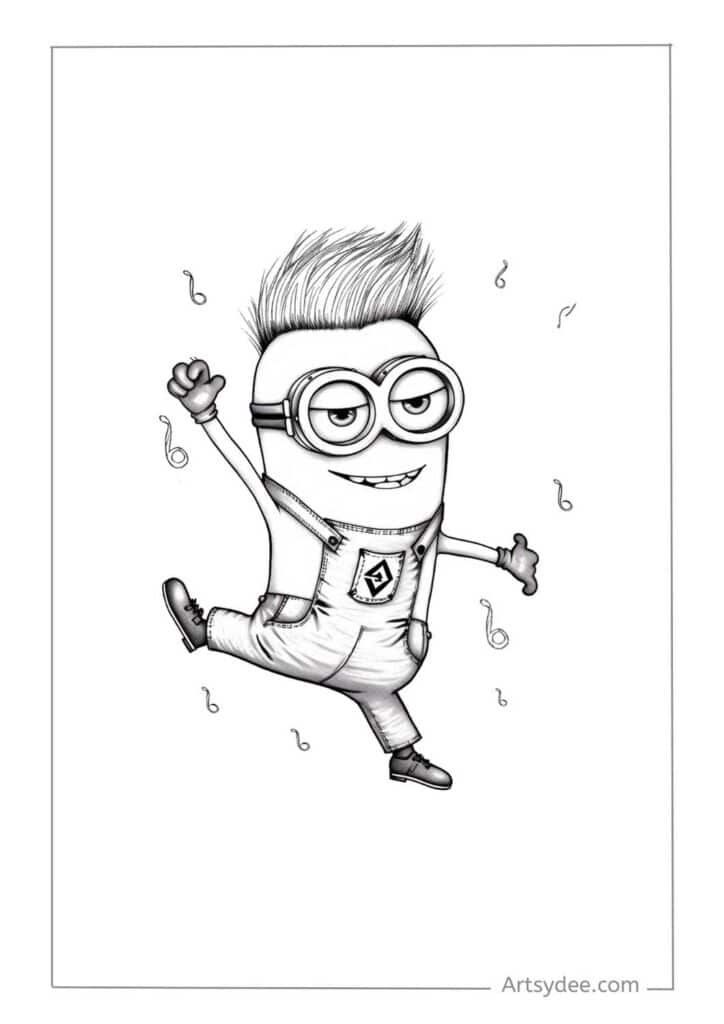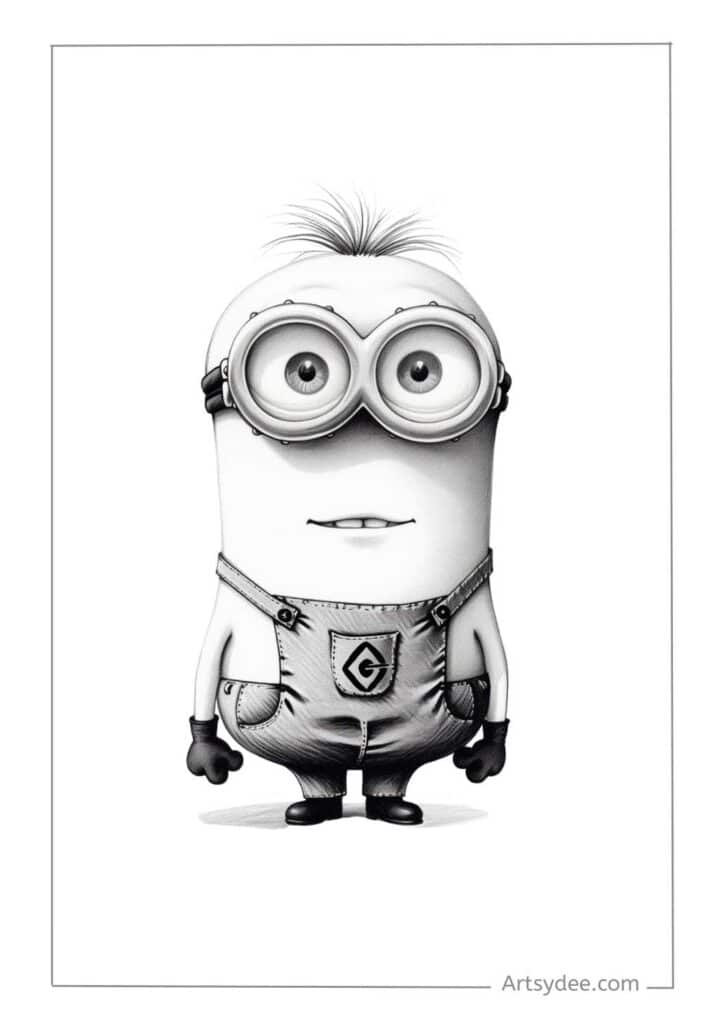 Download the Minions Coloring Pages

HERE

.
To get started with your Minions coloring adventure, all you need to do is click on THIS link. Once you click, you'll be able to download the Minions coloring pages PDF or PNG files.
This means you can choose how you want to color. If you like using crayons, markers, or colored pencils, go for the PDF files and print them out.
But if you prefer digital coloring on your computer or tablet, then the PNG files are what you need. Either way, you're just a click away from hours of fun with your favorite yellow friends!
Understanding the Basics of Coloring
Coloring is a fun activity that's good for kids and adults. It helps you show your creativity and feelings. Plus, it's great for learning too!
When you color, you practice important skills. For kids, it helps them learn how to control their hands and fingers. This is a skill they'll use a lot when they start to write. Coloring also helps kids learn about colors. They get to see how different colors mix together and can make new ones.
Adults can benefit from coloring too. It's a good way to relax and forget about stress. Plus, it can feel really good to make something beautiful.
Meet the Minions: Characters to Color
Do you remember the yellow, funny-looking characters from the "Despicable Me" movies? That's right, the Minions! These little guys are so much fun to color. With our free Minions coloring pages, you can bring their crazy world right into your home.
Each Minion is different and that's what makes them so special. There's Kevin, who acts like the boss. Then, there's Stuart, a one-eyed Minion who loves to play the guitar and cause a little trouble. And we can't forget Bob, who is sweet, kind, and always ready for a new adventure. You might even find an evil Minion or two in our coloring pages. Don't worry, even the evil Minions are fun to color!
Our Minions coloring pages have all sorts of pictures. You can find coloring sheets of cute Minions laughing, playing, and even working on fun scenes. Do you want to color a one-eyed Minion or a two-eyed Minion? We have both!
With our Minion coloring pages, you get to decide how these Minions should look. You can even try coloring a cute Minion in bright colors or an evil Minion in darker shades. But remember, the most important thing is to have fun. So, grab your coloring tools, download our free Minions coloring pages, and start your coloring adventure!
Benefits of Coloring for Kids
Coloring isn't just about filling in a fun picture. It does so much more! It's a powerful tool that helps children grow and learn. So, when your child is coloring Minions coloring sheets, they are not only having fun but also learning important life skills.
Coloring can help kids get better at moving their hands and fingers. This skill is called 'motor skills.' They will use it a lot in their lives, like when they start writing or tying their shoelaces. Coloring in a cute little creature like Minion Stuart or any of the other Minions can help improve these skills.
Another good thing about coloring is it makes kids more creative. When they pick up a coloring sheet, they get to decide which colors to use. They could color the adorable Minions in their classic yellow or surprise everyone with a rainbow Minion!
Coloring also helps kids focus. They have to pay attention to stay inside the lines. Plus, coloring takes patience. It might take some time to finish coloring all the Minions on their sheet. But once they do, they will feel so proud!
How to Use Our Minions Coloring Pages
Getting started with our Minions coloring pages is as easy as saying "banana"! We've made sure they're really simple to use. Whether you're an expert at using coloring pages or this is your first time, you won't have any trouble.
First, you'll want to pick out your favorite Minions design from our collection. You'll find more than 100 pages, each packed with Minions fun! Maybe you're a fan of the one-eyed Minion Stuart, or you like the cute little Minion Bob. You might even be brave enough to color an evil Minion! No matter what you prefer, we've got a design that's perfect for you.
But what if you prefer digital coloring? No problem! You can download the Minions coloring page right to your computer, tablet, or phone. Then, you can use a program like Procreate to color it in. This is a great option if you want to be able to erase and change colors easily.
Traditional Coloring: Tips and Techniques
Traditional coloring, using colored pencils or markers, is a timeless, enjoyable activity. The Prismacolor Premier set is a great choice for a diverse range of vibrant colors. Start by coloring large areas before focusing on the details, and don't be afraid to experiment with different color combinations.
Guide to Digital Coloring with Procreate
Digital coloring is a popular option as well, especially with easy-to-use applications like Procreate. Once you upload your selected Minions coloring page into the app, you can start filling it in with a variety of brushes and colors. The unique features of Procreate, such as adjustable layers and opacity options, make digital coloring a joy.
Guide to Digital Coloring with Procreate
For those who enjoy digital art or want to try something new, Procreate is a fantastic tool. With its wide array of features, this application makes digital coloring a breeze. Here is a step-by-step guide on how to use our Minions coloring pages with Procreate:
Choose and Download the Coloring Page: First, browse through our collection and choose your favorite Minions coloring page. Click on the download link to save the image to your device.
Open Procreate: Next, open up the Procreate app on your device. If you don't already have Procreate, it's available for download from the App Store.
Import the Coloring Page: To import the coloring page into Procreate, click on the "+" symbol to create a new canvas. Choose the option to import a photo, then select your downloaded Minions coloring page from your device's photo gallery.
Start Coloring: Now that your Minions coloring page is imported into Procreate, you're ready to start coloring! Select a brush from the brushes menu. Procreate offers a variety of brush options to create different textures and effects, so feel free to explore.
Choose Your Colors: Click on the color circle to choose your desired color. You can adjust the hue, saturation, and brightness to get the exact color you want. Don't be afraid to mix and match colors to bring your Minions to life!
Use Layers: One of the benefits of digital coloring in Procreate is the ability to use layers. By creating a new layer for each color or part of the image, you can easily make changes without affecting the rest of your artwork.
Save Your Artwork: Once you're happy with your coloring, save your artwork directly in Procreate, or export it to your device's photo gallery. You can also share your digital masterpiece on social media, if you'd like.
Remember, the key to using Procreate, like any new tool, is patience and practice. In no time at all, you'll be creating digital Minions masterpieces!
Conclusion

So, there you have it! With our big bunch of 100+ Minions coloring pages, everyone can have fun, whether you're coloring with crayons on paper or digitally with tools like Procreate. These pages aren't just for kids, but for anyone who wants to add a bit of color to the fun world of Minions. Try it out, improve your skills, and above all, enjoy the process! Coloring is fun, so let your imagination run wild with our Minions coloring pages.
Other articles you may enjoy…
9 Free Gnome Coloring Pages for Kids & Adults!
14 Free Polar Bear Coloring Pages
15 Free Mushroom Coloring Pages