Last Updated on March 21, 2023 by Dee
Are you looking for some extra inspiration and creativity to spice up your arts and crafts game? Look no further than these awesome, free ladybug printables!
Whether you want a creative new way to spruce up cards or invitations or try something new in the crafts world, these four original designs featuring Ladybird beetles are sure to brighten your projects.
With unique patterns combined and different angles – this artful collection has everything you need to take your next project up a notch!
4 Free Printable Ladybug Templates
Ladybug printables are the perfect way to add a touch of whimsy and gardening charm to your day.
Who can resist adorable ladybugs you can easily print out, cut out, and decorate with?
Whether making decorations for a birthday party or brightening up your windowsill, these four amazing ladybug printables will inspire some creative fun!
With options like paper-pieced puzzles, shadow puppets to play with, coloring pages featuring adorable critter characters, and pretty flowers, there's something for everyone.
Simply download the free printable templates below and print on plain or colored paper.
Downloading the ladybug templates is super easy and can be done in no time!
All you have to do is click on the link and open it up on your PC.
Once you've chosen the size that fits your project, you can print your template on whatever paper you like.
Whether you want an extra smooth finish or something more durable, these ladybug templates work with any paper – they are the perfect addition to spruce up any arts & crafts project.
Ladybug Craft Ideas
*This page may contain affiliate links to products I have used or recommend. If you purchase something from this page, I may receive a small percentage of the sale at no extra cost to you.**
With these free ladybird templates, the possibilities for getting creative with crafting are endless 😉
From valentine's day crafts to party invitations, there are so many ways you can use these.
Let's start crafting!
Ladybug Coloring Pages
Ladybug printables can be super fun to use for a variety of projects, but one of the most obvious and enjoyable uses is to create ladybug coloring pages!
This has all sorts of amazing benefits – who doesn't like a bit of coloring fun?
When it comes to relaxation and self-expression, adults and kids alike can find so much joy in the simple act of coloring something pretty.
And when you factor in these unique designs with ladybugs as the main characters, you've got an activity that is not only an enjoyable break from the day-to-day routines but also something connected to nature that many people have grown up loving.
Coloring is an amazing activity for a child's creative and fine motor development.
Taking a colored pencil or crayon between the fingers and using precise movements to fill in an area or make curves gives our little ones the opportunity to control their movements and helps them practice meaningful coordination and self-expression.
Art Journal Pages
Adding ladybug printables to your art journal is a great way to add a cute, rustic touch.
Whether you stick the printables in directly or create your own unique design using different elements, it's easy to bring the outdoor beauty into your journal for inspiration.
Get creative and layer shapes, words, and images of ladybugs that best reflect your moods.
Throw in some glitter for extra sparkles, and use bright colors to really make them pop out from the page! Ladybugs are a fun way to document your journey through autobiography or imagination as you travel through your entries.
[Related article: 27 Awesome Gifts for Artists who Draw]
Ladybug Party Decorations
Ladybug templates are the perfect way to add buzz to your next party!
These creative templates provide all sorts of options for decorating.
From using them as cutouts to hang from the ceiling or stringing multiple together to create a banner, they can totally take your decorations up a couple of notches.
The possibilities are endless with these vibrant ladybug templates – you can even put together floral centerpieces or use them as gift tags; either way, they will surely delight and amuse your guests.
Get ready for some serious ooh-la-las when you throw your ladybug-themed party!
Ladybug Stencils
Ladybug stencils are the perfect DIY craft for crafting enthusiasts of all ages. With these pre-made ladybug templates, you can easily create a delightful ladybug-themed masterpiece in almost no time.
All you need to do is trace the template onto your favorite material, be it cardboard or fabric, and then cut them out with scissors.
They make great bottle decorations, wall art, and even greeting cards!
So unleash your creative spirit with these remarkable ladybug stencils today and indulge yourself in some enjoyable artsy projects.
Ladybug Party Invitations
Ladybug printable templates make it easy to create the perfect party invitations!
Whether you are hosting a special occasion like a baby shower, or birthday event or just gathering up friends for a casual get-together, ladybug printables make it fun and easy to get your invitation out.
You can also use them for invites to other events like school fundraisers, holiday gatherings, or summer barbecues.
Ladybug Procreate Coloring Pages
Procreate an awesome iPad art app that you can you to create amazing graphics, art and more.
Creating Procreate Coloring Pages is a fun and creative way to get your inner artist flowing!
Simply download the Ladybug PNG on your iPad and then import the image onto a new canvas in Procreate.
Whether you want to design wall art for your home or want something pretty to show off on social media, you'll be sure to impress with these incredible templates.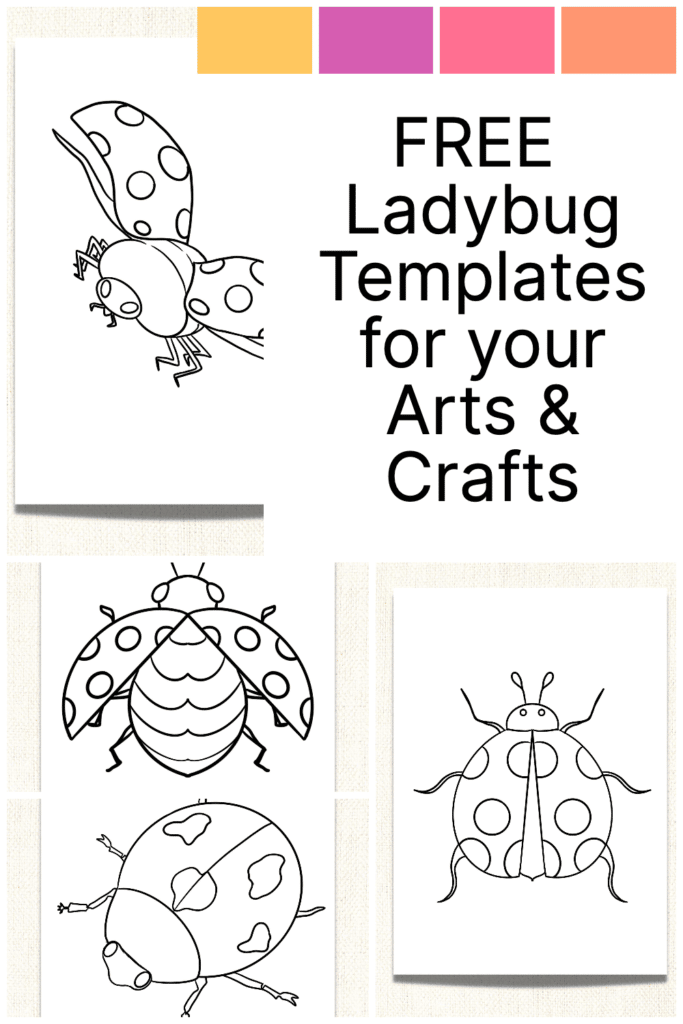 Ladybug Template Materials Needed:
If you're itching to get creative and craft your own ladybugs, then you're going to need some essential tools and materials.
They can be as simple or as elaborate as you want – but with a few basic supplies like red and black cardstock paper, paint, glue, and googly eyes, even the most novice crafter will be able to create some amazing works of art.
Depending on your project type, don't forget to search for specialty materials like rhinestones, fabric embellishments, and foam pieces to give your work an extra pop of pizzazz.
When it comes to making ladybug crafts or art pieces, the possibilities are endless, so gather up those supplies and let your creativity take flight 😉
Here are some art materials you may need…
Paper
Scissors
Ruler or measuring tape
Mylar sheet (or standard transparency sheet)
Double-sided tape
Glue
Conclusion
All in all, these free ladybug printables will help you ignite your creative spirit and make the crafting possibilities endless! These printables provide four unique designs, each with its own style and color scheme to spice up any project.
From party invitations to scrapbooking pages to DIY decorations – there is nothing you can't create with these amazing Ladybird prints! So next time you need some extra inspiration or creativity, don't let a lack of resources stop you – check out these lovely ladybugs and get started 🙂
Other articles you may enjoy…
[21 Procreate Coloring Pages to Help You De-stress and Relax]
Looking for a Cloud Template? 10 Free Printable Cloud Templates for Your Art Projects
[6 Awesome Black Cat Templates]