Last Updated on August 23, 2023 by Dee
Ah, mermaids! Whether you are an artist or a crafter who loves to bring a bit of magic and sparkle into your projects, there's nothing quite like the allure of these beloved creatures.
And now, with these 5 x Mermaid Tails SVG Free Files available for download, you can easily expand your craft collection and add some mythical, fun accents to any design.
From whimsical vector designs to detailed scale patterns – this set of 8 mermaid tail visuals offers endless opportunities for artists looking to express their creativity.
So join us on our magical journey as we explore these special Mermaid Tail SVGs in more detail!
5 Free Mermaid Tail SVG's
How to download the SVG free cut file?
**This page may contain affiliate links to products I have used or recommend. If you purchase something from this page, I may receive a small percentage of the sale at no extra cost to you.**
Subscribe below to the Artsydee newsletter, and the download link will be sent to your email!
The zipped folder containing the SVG files, PNG format files, and a DXF file will be available as an instant download for you to extract whichever free file you want immediately.
Open one of these mermaid tail SVG files using Silhouette designer edition, Cricut Design Space, Corel draw, Adobe Illustrator,
(This is not a physical product, but rather, digital files that one downloads to access the designs.).
The PNG and SVG file comes with a free commercial use license and can be used freely for personal use, commercial purposes, or print-on-demand (POD) designs on t-shirts, hats, and other print or cut projects.
*Digital files for personal use. Do not sell the SVG Files or PNG files as is (as a digital download).
Materials needed for SVG Crafting…
To make your own vinyl design heart to stick on a crafting blank (like a tumbler or a T-shirt), you will need the following materials…
-Mermaid Tails SVG Free (free download)
How to Use the Free Mermaid Tail SVG files for Vinyl Cutting…
1) Start by downloading the cut files.
2) Open the file in your cutting software and resize it to fit your project
3) Cut out the design on adhesive vinyl using your cutting machine.
4) Weed away the excess vinyl around the design
5) Apply transfer tape to the design and then peel it off the backing paper.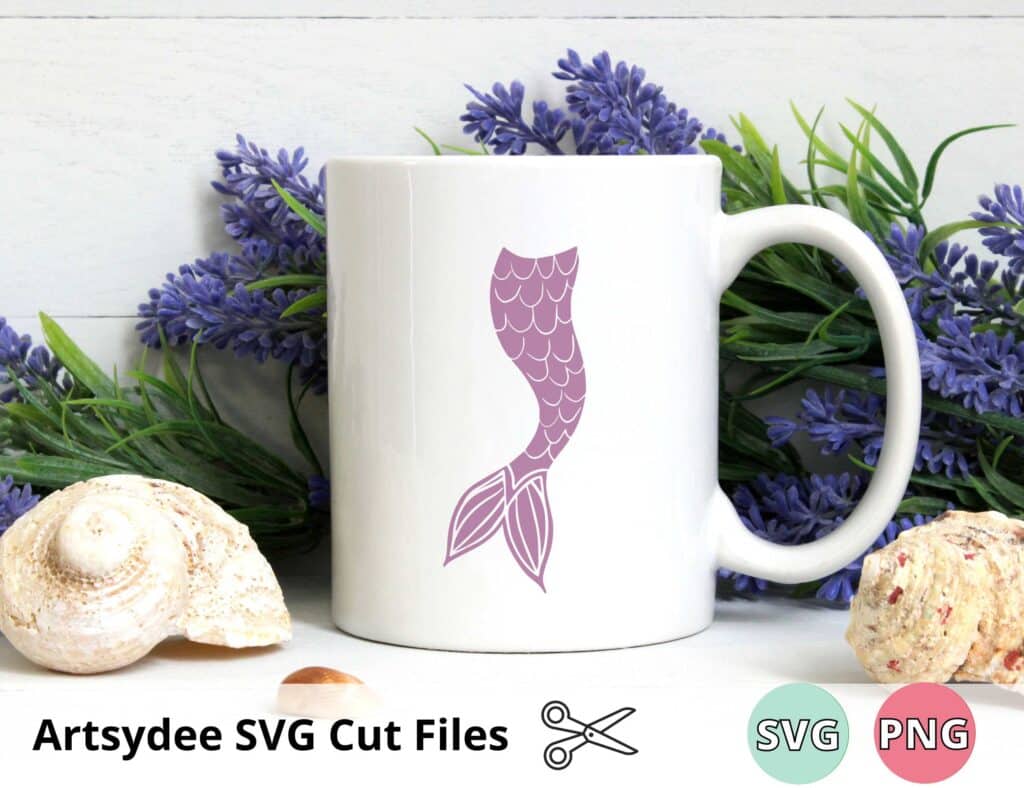 Creative Craft Idea's for Using Your Mermaid Tails SVG
Here are some quick ideas for Whimsical Ocean Crafts…
Design a Mermaid Tote Bag
Design a unique t-shirt or tote bag using the free mermaid tails SVG file as your starting point. Add your own text or graphics to create a one-of-a-kind product that will turn heads.
Create Mermaid Tail Wall Art
Create a piece of wall art (SVG art) by printing the free SVG file onto canvas or another medium.
Mermaid Stickers
Make some mermaid tail stickers for coffee mugs or tea designs!
Mermaid Tail Gift Tags & labels
Use the mermaid tail cut file to make cute, customized gift tags or labels. This is a great way to add a personal touch to your holiday gifts.
Mermaid Home Decor
Add a mermaid tail to your home decor – make a magical banner or garland by cutting out the tails and tying them to a line of string!
What is an SVG file?
An SVG file, also known as a Scalable Vector Graphic, is an ideal type of image to use in design work due to its ability to maintain quality while resizing.
Vectors provide the flexibility needed for creating beautiful visuals that can be increased or decreased without any loss of detail.
Other file formats:
A PNG is a "lossless" format with "transparency" (think clear backgrounds).
Procreate is my software of choice when it comes to creating digital art and designs.
It's an app that allows you to draw, paint, and edit photos directly on your iPad.
I love the intuitive interface and the wide range of brushes and colors available.
Plus, the ability to add text and layer images makes it easy to create complex designs.
And if I ever get stuck, plenty of helpful tutorials are available online.
Whether I'm working on a simple sketch or a more detailed painting, Procreate always gives me the results I'm looking for.
One caveat is that you cant make an SVG file directly in Procreate.
However, using the free Inkscape software, you can export your Procreate artwork as a PNG with a transparent background and convert it to an SVG.
You can also use Adobe Illustrator and the Adobe suite to design your artwork and export it as an SVG.
Conclusion
Mermaids have always been a source of wonder and fascination, with their ability to glide through the water effortlessly.
Hey crafters, these eight free mermaid tail SVGs are the perfect way to add a bit of magic and sparkle to any project.
Whether you're an artist or crafter, these vector designs and detailed scale patterns offer endless opportunities for creativity.
So dive into this magical collection of mermaid tails SVG free files, and let your true creative imagination run wild!
If you enjoyed this post, you may enjoy these too…
Looking for a Pencil SVG? 3 Free Pencil Designs for Your Arts & Crafts
Heart SVG Free (6 Heart Designs for your Art)
Snowflake SVG FREE (4 Magical Snowflakes for Your Art)
Looking for a Palm Tree SVG? 3 Free Palm Tree Designs for Your Arts & Craft Projects
Looking for a Cross SVG? Get Creative with These 7 Free Cross Designs for Your Cutting Machine
Looking for a Handprint Template? 6 x Free Handprint Printables