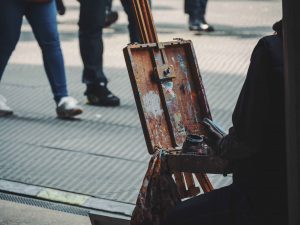 Why should you be painting on an easel?
For an artist, an easel is an essential tool. Perhaps you are wondering why you should use an easel and what painting on an easel involves.
Most of us start drawing or painting on a flat surface, like a tabletop or desk. This is fine to start off with because you have a flat surface on which to put your pencils and secure your paper or canvas.
The problem with drawing or painting on a flat surface becomes most evident when you have been sitting at you table drawing for hours and you lift your drawing….
Why do the proportions look so …long? Yes, when you work on a flat surface you tend to stretch out the proportions of your subject matter because of the angle you are working from.
In order to draw or paint accurate proportions, you need to have your canvas or surface set up at the right angle in front of you.
**This page may contain affiliate links to products I have used or recommend. If you purchase something from this page, I may receive a small percentage of the sale at no extra cost to you.**
Working on an easel allows you to stand back and assess your work!
This is a very important thing to do when you are trying to improve your art-making.
One of the best ways you can improve your art is by improving your observational skills. What this means is the more you take time to look and assess, the better you will be at translating the subject matter in your art.
[Related Article: 11 Top Tips to Improve Your Drawing!]
How do you use an easel for painting?
Perhaps you haven't used an easel because all those screws and attachments are quite difficult to figure out. Don't be afraid or embarrassed, I have been to many art classes where even the most masterful artists struggle to set up an easel. If you want to avoid this issue, perhaps get your own portable easel that you can take with you to class.
That being said, most of the time if you have managed to put an easel up once, you will easily do it again. And once you have it figured out, you will reap the benefits!
It is actually much easier to paint and draw on an easel than it is on a flat surface. Not only will your proportions be better, but your neck and wrist will suffer less strain.
Different Types of Easels
There are a few different kinds of easels that you can use. All of them will be built to hold a canvas at an angle. There is a flat support base on which you place your canvas onto. You then adjust the screws on the easel to get the right angle for your line of vision. There is usually also a top bar that comes down to support the canvas and hold it securely.
Studio H-Frame Easels – theses are heavy easels used indoors for painting on a large surface.
A-Frame Easels – these are sturdy easels for indoor use. They are usually light and can be easily stored.
Field Easels – these are used for paining En Plein Air (outside in nature).
French Easels – these are a compact easel which can also store your paint and brushes
Table top Easels – small easels that can be easily set up on a table surface. They are usually quite light and easy to store.
Some easels come with a side attachment like a tabletop where you can place your paint or a water jar. If your easel doesn't come with this attachment, you should make sure you have some table surface nearby to put your paint, brushes, or other art materials down.
Many established artists recommend that you stand at your easel while painting or drawing because you can easily stand back when you need to reassess your subject matter.
However, standing for long periods of time while making an artwork is not ideal. You start to focus more on your sore feel than on your artwork. A more comfortable option is to find a stool or chair that you can comfortably perch on while you work.
You can also get a tabletop easel which is easy to transport and store. I personally find my tabletop easel to be the most user-friendly and portable.
[Wondering How to Find Your Art Style? Read this blog post!]

What angle should an easel be at?
Your easel should be set up to about 20degrees to the vertical line.
Conclusion
Painting on an easel, whether it's a table easel or a frame easel, is not only a good for improving the quality of your art, but having an easel at home, means you have a new place to store or display you latest artwork.
Other articles you may enjoy…
How to create the illusion of depth in art (2023)
What is the Right Digital Art Canvas Size? Important things to Consider to Make the Best Choice.