Last Updated on March 21, 2023 by Dee
Have you tried to paint with coffee?
Table of Contents
After being inspired by some great coffee artwork, I thought I would give it a go myself today. It was a seriously fun experience, and I would totally recommend it! Painting with coffee not only did my art smell great the whole time, but coffee is surprisingly versatile and has a lovely watercolor feel to it.
What subject matter should you paint?
If you are starting out as a first-time coffee painter, I would suggest going for something with quite a simple shape and not too much tonal variation. An apple, an egg, or even just flat shapes are a good way to get a handle of the medium.
I chose to paint a fox as we have three very sweet foxes that visit our garden from time to time, and I love watching them jump and play with one another.
What materials do you need?
Coffee. I simply used the instant coffee we have in the cupboard and it worked just fine. Many people use ground coffee beans which also works quite nicely. You can get darker values with ground coffee beans if you need.
Paper. For this exercise, I used 200gsm watercolor paper. This paper is thick enough to hold a lot of liquid and doesn't bulk or warp. You must always choose a paper that will be thick enough and water become too water logged when painting.
Brushes. I used a range of soft bristle nylon watercolor brushes. This kind of brush really helps you to move the water and coffee over the surface very gently. You can get smooth lines and washes on the paper's surface. Its good to use your larger brushes for larger areas in your painting and smaller brushes for the detailed areas.
Paper towel. Its always good to have a piece or two nearby so that you can dab your brush if you have too much liquid on it. You can also use a paper towel to mop up any accidental drips on your painting or if the paint bleeds too much into another space.
Once you have collected all you materials, you are ready to begin!
[Related article: Gouache vs Acrylic Paint]
Step 1
Put a teaspoon of coffee in three little containers.
Put a teaspoon of water in the first container, 2 tablespoons in the second, and 3 in the third. This gives you a nice variation in the tonal value of the coffee.
Stir the liquid in each container.
Step 2
Draw five blocks and paint out a graded set of tonal variations for yourself. You can use this to assess what tones are needed where on your painting. This also gives you a sense of what the coffee feels like when you paint it on the paper.
Step 3
Lightly draw the outline of your subject matter onto your paper. I used pencil for this and then gently tried to erase as much of the visible mark as possible before I began. Once you paint over the pencil you can no longer erase it, so best to do that before you start painitng if you don't want the pencil marks to be evident. I quite like the look of the pencil marks left visible. It gives the artwork a retro feel.
Step 4
Use the lightest coffee tone to start mapping out your subject matter. Work into the shadow areas and leave your highlights white.
Step 5
Work further into your darker areas and start painting in your mid tones. Like watercolor paint, coffee is a medium you can layer quite easily. The layering technique is essentially where you paint a wash of coffee and let it dry. You then paint another layer on top of this, which darkens the color of the paint. The more layers you paint on top of one another the deeper and richer your paint effect is.
Step 6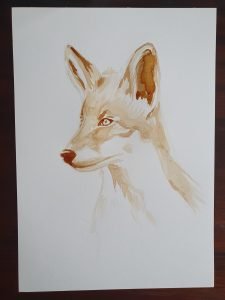 Increase the detail in the subject matter. Paint further into your darker areas. Define shapes.
Be sure to let your darkest areas dry completely before you paint lighter areas around them. If they are not completely dry then the coffee will bleed into the light spaces.
Step 7
At this point, I added the whiskers and started to plan for a coffee mug stain effect to add a design element to the background of the painting.
Step 8
Lastly, I added the coffee stain pattern to the background. Don't forget to sign your artwork!
Check out these amazing coffee artists!
All in all, this was a great experiment and you can really do so much with the medium. I would love to hear if you have tried painting with coffee and what you enjoyed about it!
Please share my pin 🙂