Last Updated on April 11, 2023 by Dee
If you're looking for a tree template without leaves to use in your art projects, you've come to the right place! I've created five free bare tree templates for you to download and use.
These templates are perfect for all kinds of art mediums, from drawing and watercolor painting to craft and digital art.
With five different designs to choose from, you're sure to find the perfect one for your art.
Grab your paints and get creative:)
5 Free Tree Templates without Leaves
Large Tree Template without leaves
Bare Vertical Tree Outline
Baobab Printable Tree Template without Leaves
Spooky Bare Tree Template
Tree Template without Leaves ( Leaf printable template Pattern)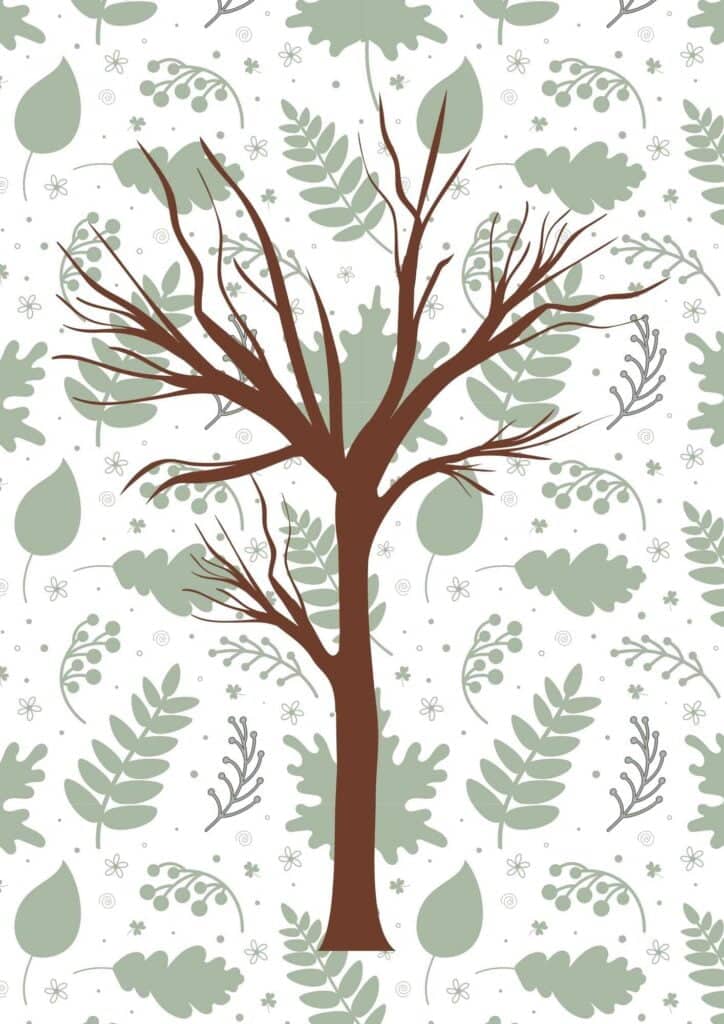 Download and print out your favorite printable tree template without leaves below!
If you enjoy reading my blog, Artsydee, and would like to support my work, I would be incredibly grateful if you could buy me a "coffee". A small gesture that can make a big difference, helping me to continue creating content and bringing you valuable insights and inspiration 🙂
How do I make my cute printable tree template the right size?
*This page may contain affiliate links to products I have used or recommend. If you purchase something from this page, I may receive a small percentage of the sale at no extra cost to you.**
I have designed 5 different printable tree templates saved in JPG format in A4 size – so printing is easy!
Printable tree crafts are useful for both adults and children.
They may be produced on any printer, cut apart as desired, or used as a sketch for a watercolor painting by transferring them to watercolor paper.
If you want to print out a tree outline on a larger A3 sheet then make sure to 'set to size' on your printer settings.
What can you do with your printable tree template?
The tree templates without leaves can be used for a wide range of art projects and activities:
– As coloring pages
– As part of an art therapy project
– To create tree rubbings
– For card making, decoupage, and papercrafts
– As stencils for painting or drawing
Other Ways to Use your Printable Tree Template
Party and Celebration Decor!
Decorate your patio, lounge, kitchen, or any other room in your house or office with some printable tree templates!
Cut out the template and paint over it onto cardstock or watercolor paper, using watercolor, watercolor brush pens, or even spray paint.
Print out the printable tree template on bright-colored cardstock or paper, cut out the shapes, and create your own forest bunting to decorate walls or doorways.
Art Journaling.
Use the free printable tree template to design creative shapes, backgrounds, patterns, or focal points in your art journal.
[Related article: Draw Tree Roots in 10 Easy Steps!]
Invitations.
Color your template with markers or watercolor to create a colorful forest themed party invitation!
Free Tree Coloring templates.
If you like to color in, you can use these as tree coloring pages. This is a fun way to add color and creativity to your doodling.
Stick your tree coloring on walls or gift wrap for added decoration!
[21 Procreate Coloring Pages to Help You De-stress and Relax]
Use the bare tree templates on clothing or fabric.
You may use these printable tree templates to print them directly on clothing or fabric. Make your own winter tree t-shirt design!
If you want to use designs from your shirts, hats, or bags as cute themed accessories, just cut them out and sew them onto t-shirts, caps, or luggage!
Make your own personalized bare tree apron, table cloth, or bag with fabric paint over the free tree template!
Create Stickers.
Create your own bare tree stickers by printing the templates on sticker paper and cutting out the shapes.
You can then use these stickers for anything you like!
Use them to name party favors, wrap snacks in gift bags or boxes, make table place cards for every occasion… the possibilities are endless with these printable templates!
Watercolor brush pens may be used to color your tree template without leaves. I use Tombow Watercolor Brush Pens and they are ideal for coloring artwork in a professional manner!
This is a fun and easy brush pen project that is great for both children and adults!
Watercolor brush pens are fantastic for adding a watercolor vibe to artwork and craft projects.
To help you out, I have put together these printable templates so that all you have to do is transfer the shape onto your watercolor paper and fill them in with your watercolor brush pens, or watercolor paint.
If you would like to try this out, you should transfer the bare tree template to watercolor paper. This is how…
How to Transfer the Bare Tree Template to Watercolor Paper
Here are some quick steps to get your bare tree template ready to use as a stencil.
Open your free printable tree PDF and select print.
Choose the size you want to print to.
Print the stencil onto a mylar transparency sheet. (Alternatively, you can print the tree stencil onto a standard piece of paper and then trace it onto a piece of plastic mylar after)
On a cutting mat, use a craft knife to carefully cut out the shapes of your tree.
You can also simplify the cutting process by using a Cricut digital cutting machine. I absolutely love mine and it has made art making so much easier 🙂
Your stencil is now ready to use.
Conclusion
If you have been looking for a tree template without leaves for your art projects then one of the 5 free templates above should do the trick!
If you have any questions or feedback, please feel free to leave a comment below or get in touch with me on social media.
I would love to see what you create with these templates – be sure to tag me on Instagram or Facebook so I can take a look!
Here are some other templates that you might like!
[Free Mermaid Templates]
[Looking for a Printable Whale Template?]
[7 FREE Shamrock Template Printables!]
[6 Awesome Black Cat Templates]
Happy art-making 🙂