Last Updated on June 26, 2023 by Dee
If you're an artist, then you know that charcoal pencils are an essential tool for your craft. They offer a wide range of possibilities for shading and detail work. But with so many different brands and types of charcoal pencils on the market, it can be hard to know which ones are best for you.
In this blog post, we will discuss the 16 best charcoal pencils for artists of all levels! We'll also give you some tips on how to use them effectively. So whether you're just starting out or you've been using charcoal pencils for years, this post is for you!
16 Best Charcoal Pencils for Drawing in 2023
**This page may contain affiliate links to products I have used or recommend. If you purchase something from this page, I may receive a small percentage of the sale at no extra cost to you.**
I love using Derwent charcoal pencils when I'm drawing. The main reason is that they are excellent for detail work due to the high quality of the charcoal.
Also, because they're in a cedar barrel, they don't have any imperfections, which can sometimes cause scratchy marks.
And lastly, Derwent Charcoal Pencils are much easier to sharpen than traditional charcoal sticks, with less breakage.
You can find them in light, medium, and dark shades, and they come pre-sharpened.
As a professional artist, I appreciate the variety of charcoal types included in this charcoal pencil set and the high quality of each product.
The pencils are especially great – they produce a nice, smooth line and are perfect for detailed work.
And the kneaded eraser is a lifesaver when it comes to correcting mistakes.
But what I really love about this set is that it's perfect for both beginners and experienced artists.
The Nero and Charcoal pencils are ideal for those just starting out, while the Monoliths and compressed charcoals are perfect for more advanced artists who want to experiment with different techniques and create dark lines.
Whether you're a beginner or a pro, this set will take your drawing skills to the next level!
The General's Charcoal Pencil Drawing Kit No. 15 is a great set for beginner artists.
It comes with 13 pieces, including an HB pencil, a 2B pencil, a 6B pencil, a charcoal white pencil, a carbon sketch pencil, two soft sticks of compressed charcoal, a soft jumbo stick of compressed charcoal, a white charcoal stick, an artist's pencil sharpener, and two kneaded erasers.
This also makes an ideal gift for a friend who's been thinking about taking up drawing again and needs that extra nudge.
The pencils are pre-sharpened, so they're ready to use right out of the box.
With this set, you'll have everything you need to get started on your next masterpiece 😉
The Wolff's Carbon Pencils are the perfect combination of charcoal and graphite.
They're perfect for getting that deep, rich black that I want in my drawings.
The fine grain makes them great for detailed work, and the softness ensures a smooth, precise line every time.
I also appreciate that they're pre-sharpened – it's one less thing I have to worry about.
Overall, these are just really great pencils that I reach for time and time again.
I love using Faber-Castell Pitt Charcoal Pencils for drawing because of the natural charcoal.
It glides softly across the paper, rubs, and smudges easily, and can be erased and overlaid with minimal difficulty.
They're available in various hardness degrees, so you can find the perfect match for your sketch.
And because they're grease-free and oil-free, they make bluish-black lines that are perfect for any artsy project.
Prang's paper-wrapped charcoal pencils are made of 100% natural charcoal for rich, deep black tones, and the Italian-style round cedar wood casing provides smooth and easy writing every time.
And, since the pencils are paper wrapped, they're stronger and cleaner than other brands. Plus, the easy-pull string makes it easy to expose more point when needed.
Whether you're sketching a rough idea or creating a detailed drawing, Prang's charcoal pencils are an excellent choice for any artist.
I saw this General's Drawing Pencil Set No. 20 and decided to give it a try.
It comes with a bunch of different pencils, all in one handy storage box, which is great.
The pencils are pre-sharpened, except for the flat sketching pencils, which is fine.
They have a good variety of colors, including charcoal and white. The flat sketching pencils are great for doing detailed work.
Overall, I'm really happy with this set and would recommend it to anyone who's looking for a good drawing set.
This great basic set contains several types of charcoal, perfect for any level of artist. The compressed charcoal crayons are produced from a fine mixture of soot and charcoal, resulting in a smooth application.
The set also contains a gray, kneaded eraser which is perfect for lightly erasing or lifting graphite and pigment color pencils as well as pastels.
This set includes 2 Pitt charcoal pencils (Soft and Medium), three compressed charcoal crayons (Extra Soft, Soft, and Medium), four natural charcoal sticks, each 3 mm to 6 mm in diameter, and a kneaded eraser.
Whether you're a beginner or a master artist, the Faber-Castell Pitt Basic Charcoal Assortment is a great addition to your art supplies.
The thing I love most about the Caran d'Ache Charcoal Pencils is the deep, rich blackness of the charcoal.
It's perfect for creating those shadowy, moody figure drawings that I love so much.
And because the pencil is 4.7 mm in diameter, it's also great for finer details and graded effects.
Plus, the pencils are made by Caran d'Ache, so I know they're of superior quality and will last a long time.
So if you're looking for a charcoal pencil that can give you both bold and subtle effects, the Caran d'Ache Charcoal Pencil is a perfect choice.
As an artist, I am always on the lookout for new materials to add to my toolkit.
When I came across the Cretacolor Noir Charcoal Pencil sets, I was intrigued by the wide range of blacks available in one set.
The 11-piece set includes one hard charcoal pencil, a soft charcoal pencil, a medium Nero oil charcoal pencil, an extra-soft Nero oil charcoal pencil, a black chalk artist pencil, a hard and a soft compressed charcoal, a sketching coal, a natural vine charcoal, and a paper blending stick.
Compressed charcoal sticks are great for creating neat, crisp lines, while the oil charcoal pencils are best for producing velvety blacks.
The Nero oil charcoal pencils are ideal for achieving rich, dark tones and are popular amongst charcoal artists. And the paper blending stick is great for creating smooth transitions between shades.
I love these pencils for their versatility- I can create both fine details and darker strokes depending on the pressure I apply.
They're also really easy to sharpen with either a knife or sandpaper, which is great when I'm working on a detailed piece.
The linden wood barrel is also really sturdy and doesn't break easily, which is definitely a plus.
The Staedtler Mars Lumograph Charcoal Pencils are perfect for sketching, layouts, and adding details to finished artwork.
This set includes three charcoal pencils (in three grades: hard, medium, and soft), plus a soft white chalk pencil for highlighting and blending.
The set of 7 also comes with a metal pencil sharpener, a kneadable eraser, and a double-ended paper stump.
The Lyra Rembrandt Charcoal Set is great for anyone who wants to try their hand at charcoal drawing.
The set comes with 11 pieces, including soft, medium, and hard leads, so you can achieve a variety of effects.
The handy metal case makes it easy to take your pencils with you wherever you go.
Plus, the kneadable eraser, paper wiper, and sharpener make it easy to keep your pencils in top condition.
The Cretacolor Nero Deep Black pencils are gorgeous to work with. The dark charcoal pencil produces a rich, black line that is smudge-proof and water-resistant – perfect for when I want to create a dramatic effect.
The Pocket Set of 7 offers seven different grades of Nero pencils, so I can always find the perfect one for the job at hand.
Plus, the natural charcoal stick is perfect for adding some extra texture and interest to my drawings.
I love the Arteza White Charcoal Pencils! They are great to draw with because they deliver noticeably smooth marks.
The set is ideal for sketching and drawing. Charcoal can be used alongside graphite pencil to add more depth to your work.
Additionally, experiment with how white charcoal can make a great addition to (dried) gouache and watercolor paintings.
These White Charcoal Pencils are also perfect for adding highlights, blending your layers, and adding dimension to your artwork.
Arteza's Expert Drawing Pencil Set is great for artists who want to explore drawing with charcoal.
The set includes 18 pencils with varying degrees of hardness, 2 woodless graphite pencils, 3 black charcoal pencils, and 1 white charcoal pencil.
This variety of drawing pencils and soft pencils allow you to experiment with different techniques and find the perfect medium for their projects.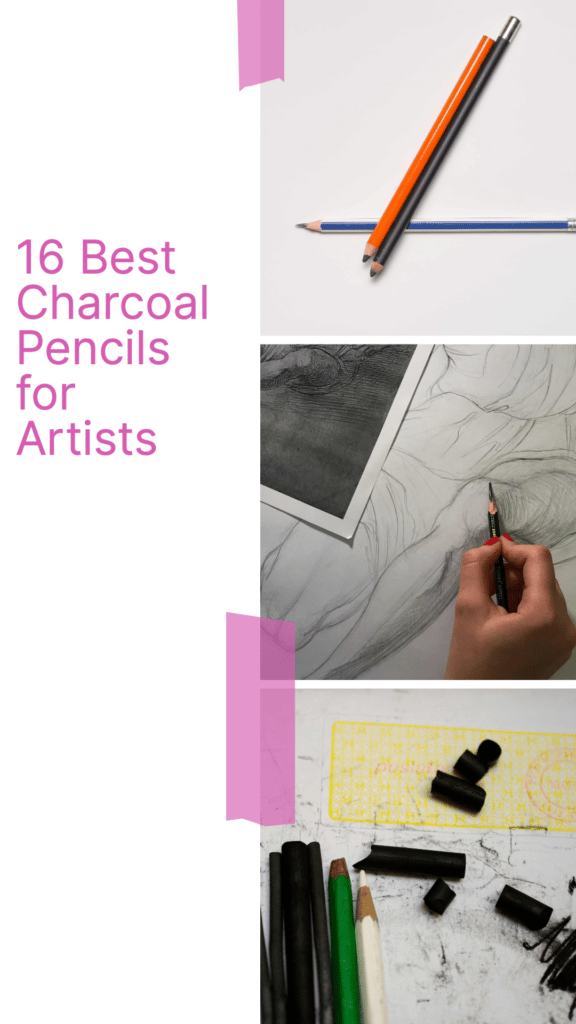 Charcoal Types for Drawing
When it comes to charcoal for drawing, there are a few different types to choose from. Each type has its own benefits and drawbacks, so it's important to choose the right one for your project.
Here are a few of the most popular types of charcoal to draw with:
Willow Charcoal
This type of charcoal is made from burning willow branches so it is composed of natural charcoal particles.
It produces a light, soft charcoal that is easy to erase and smudge. However, it can be difficult to produce a crisp, clean line with willow charcoal.
Vine Charcoal
Vine charcoal is made from burning grape vines. It produces a darker, harder charcoal than willow charcoal. Vine charcoal sticks are less likely to smudge and produce a cleaner line, but can be more difficult to erase.
Compressed Charcoal
Compressed charcoal is made by pressing powdered charcoal into a solid form. It produces a very dark, intense black that can be difficult to control. However, it's ideal for producing strong lines and bold shadows.
Charcoal Powder
This is a powdered form of charcoal is most commonly used in art by brushing it onto the surface you want to cover. It can also be poured on and spread out.
Charcoal Pencils
Charcoal pencils are made from wood or paper that has been impregnated with charcoal dust. They produce a medium-dark line that is easier to control than loose charcoal, but not as intense as compressed charcoal. Charcoal pencils are ideal for detailed drawings.
Charcoal Pencils vs. Willow Charcoal Pencils
When it comes to sketching and shading, artists use two main charcoal pencils: Willow charcoal and compressed charcoal.
Both have their own distinct benefits that make them ideal for different purposes.
Willow charcoal is made from actual willow trees and is, therefore more natural and environmentally friendly.
It also produces a smoother, more even mark than compressed charcoal.
However, willow charcoal is also more fragile and can break more easily.
Compressed charcoal, on the other hand, is made from a mixture of charcoals that have been ground up and bound together with a binder.
This makes it harder and less likely to break, but it also produces a rougher mark.
Ultimately, the type of charcoal pencil you use depends on your personal preferences and the type of project you're working on.
Charcoal Pencil Softness Ratings
When shopping for a charcoal pencil, it's important to consider the softness rating.
This will determine how dark a line you'll be able to produce, as well as how smudgy it will be.
Pencils with higher ratings will be softer and produce darker lines, while those with lower ratings will be harder and produce lighter lines.
For example, a 3H pencil will produce a very light line, while a 6B pencil will produce a much darker line.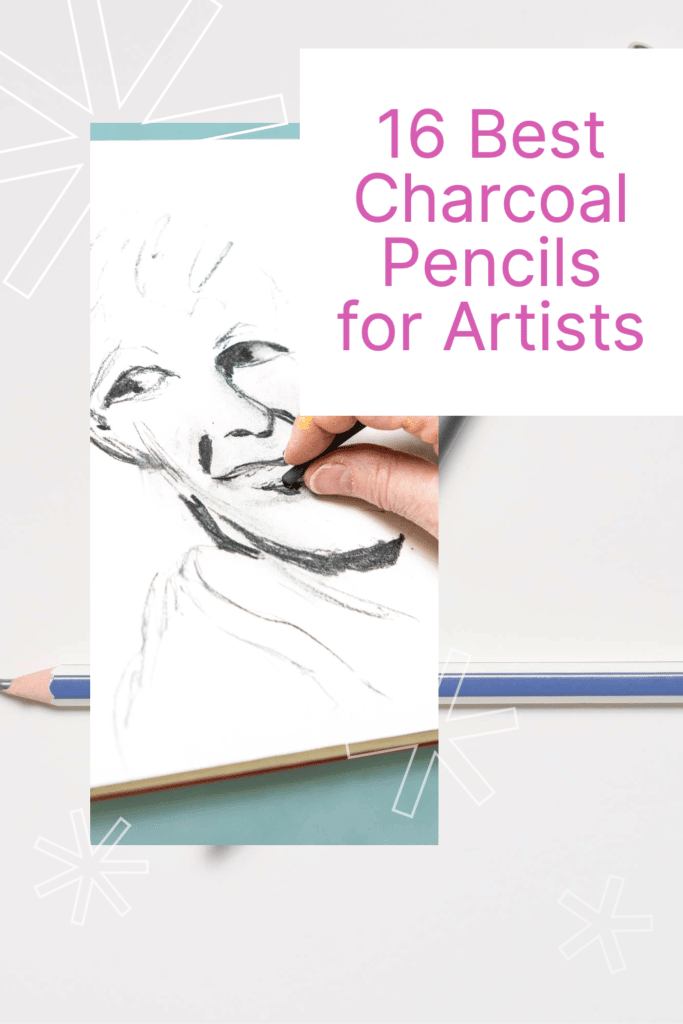 Frequently Asked Questions about Charcoal Pencils
What are charcoal pencils good for?
Charcoal pencils are great for sketching and shading. They produce a strong, dark line that is easy to control and manipulate.
Which is better graphite or charcoal pencils?
It depends on the type of artwork you're creating. Graphite pencils produce a less intense black and are better for detailed drawings, while charcoal pencils create bolder lines and darker shades.
What is the difference between carbon and charcoal pencils?
Carbon pencils are made from graphite, while charcoal pencils are made from actual charcoal. Graphite is less intense and produces a lighter line, while charcoal can create darker lines and bolder shadows.
Are charcoal pencils good for beginners?
Yes! Charcoal pencils are a great way for beginners to get used to drawing with different media. They're easy to control, and you can easily erase any mistakes you make.
Do charcoal pencils need fixative?
Yes, charcoal pencils should be used with a fixative to prevent smudging and fading. This will also help preserve your artwork for longer.
Do you need a special sharpener for charcoal pencils?
No, you can use any standard pencil sharpener for charcoal pencils. However, it's best to use a metal sharpener or x-acto knife for best results.
What supplies are needed for charcoal drawing?
In addition to charcoal pencils, you'll need a paper pad, eraser, blending stump or tortillon, and fixative.
Which charcoal pencil is the darkest?
The darkest charcoal pencils are usually in the 6B to 9B range. However, the best charcoal pencil for you will ultimately depend on your personal preferences and the type of project you're working on.
What is the softest charcoal pencil?
The softest charcoal pencils are usually in the 6B to 9B range. This will produce a darker line and bolder shadows than softer grades.
Conclusion
We hope you found this post helpful in your search for the best charcoal pencils! Remember, there is no one perfect type of charcoal pencil – it all depends on what you're looking for and what works best for you.
So experiment with different types and brands until you find the ones that suit your needs. And don't forget to practice using them so that you can get the most out of your charcoal pencils!
Happy art-making 🙂
Graphite vs. Charcoal: What's the difference?
The Best Soft Oil Pastels for Artists: A Review of Arrtx Oil Pastels
The Ultimate List of 50 Fun Things to Draw When Bored!
27 Awesome Gifts for Artists Who Draw
10 Best Black Paper Sketchbooks for Artists
Looking For a Mixed Media Sketchbook? 16 Best Mixed Media Sketchbooks for Wet & Dry Media
15 Best Pencil Cases for Artists & How you Should Choose One
44 Unique and Creative Gifts for Graphic Designers & Creatives