Last Updated on June 23, 2023 by Dee
Gouache is a versatile medium that can be used for a variety of purposes, from illustrations to murals. If you're just starting out, it can be difficult to know which brushes to buy.
In this blog post, we will discuss the 13 best gouache brushes for both beginners and professionals. We'll also give you a few tips on how to use them!
**This page may contain affiliate links to products I have used or recommend. If you purchase something from this page, I may receive a small percentage of the sale at no extra cost to you.**
13 Best Brushes for Gouache Reviewed and Rated in 2022
If you're just getting started with gouache, or even if you're a seasoned professional, it can be tricky to find the best brushes for the job.
With so many brands and types of brushes on the market, it can be tough to know where to start.
I love Princeton Velvetouch brushes because they make it so easy to get precise lines and control. The synthetic filaments are also extremely soft and allow for a smooth application of paint.
As an artist, I know that having the best tools can make all the difference. That's why I use Winsor & Newton Series 7 Kolinsky Sable Brushes for my gouache paintings.
These brushes are made with the highest quality sable hair, which means they hold their shape and provide a perfect pointing time after time.
They are also incredibly soft, making them ideal for blending and creating smooth transitions of color. In addition, the short handle design provides greater control while painting.
Whether I'm working on a small or large-scale painting, these brushes give me the precision and flexibility I need to create the best possible results.
Blick Masterstroke Interlocking Bristle Brushes are great for gouache because they are made with high-quality materials and craftsmanship, but are a bit cheaper than other brands.
The hog bristle is very durable and is ideal for thick paint applications.
As an art teacher, I always have these brushes on hand for those students who love painting with gouache.
Gouache has similar properties to watercolor in that it is semi-transparent and can be reworked while still wet.
However, gouache has a higher pigment load, resulting in more opaque coverage.
Because of this, it is often used for subjects such as portraiture, where uniformity of color is desired.
The drawback to gouache is that it can be difficult to achieve delicate gradations of color. This is where the ARTEGRIA Watercolor Brush Set comes in!
The set includes a variety of brushes with different tip shapes and sizes, giving you the flexibility to create precisely detailed pieces or large washes of color.
The soft synthetic bristles have great liquid holding capacity, ensuring smooth paint flow and consistent color coverage.
I've been painting with gouache for a while now, and I've tried out a lot of different brush sets.
I have to say, Himi's 5 Piece Water Color Brush Set is definitely one of the better sets I've used. The brushes are all incredibly versatile and high quality – they work on almost any surface, from paper to canvas to wood.
FENORKEY Artist Watercolor Paint Brushes are great for gouache because they are sturdy and durable.
The brush tips are made of pure nylon hair, which is soft, ductile, and flexible, making them easy to clean.
The wooden handles are waterproof, non-fading, and non-cracking, providing a comfortable grip.
They are also highly flexible, making them perfect for creating detailed paintings.
ARTDINGD Artist Round Painting Brushes Set is great for gouache for several reasons!
First, the set comes with 13 different sizes of brushes, so you can use different colors to make your painting more unique and colorful.
The round pointed tips are great for detail, and the brush hairs are secured in the ferrules by advanced technology, so they won't shed while you're painting.
The long wooden handle is also perfectly balanced and comfortable to grip, making it easy to deliver paint to your canvas.
The Transon Squirrel Hair Round Brushes are great for gouache painting, and they come in 6 different sizes, so you can always find the perfect brush for the job.
The natural squirrel hair blend is absorbent and has a great snap, making it easy to create delicate lines and details.
The multiple-layer finished handle is comfortable and durable, and the double-crimped copper ferrules are sturdy and secure.
I love these brushes! They are the best gouache brushes I have ever used.
They absorb water really well, and they pick up the pigment easily. The bristles keep their shape so I am able to use the tip of the brush to create very thin lines.
The hair springs back to its shape once lifted off the paper. They are also very durable, and I have not had any of the bristles fall out.
Despite being made for oil painting, this brush set works fabulously with gouache.
I'm an artist that primarily uses gouache and these oil brushes are some of the best I've used for the medium.
The bristles hold a lot of paint and have a good amount of stiffness, which I need to make fine lines.
This set of 10 smaller brushes offers the perfect size and shape for every kind of detail-oriented painting project, whether you're working with gouache, watercolor paint, acrylics, or oils.
The easy-grip triangular handles are comfortable to hold and provide excellent control, while the high-quality bristles create smooth, even strokes that are perfect for miniatures, models, figurines, and more.
So if you're looking for the best gouache brushes around, be sure to check out this Detail Paint Brush Set.
The GETHPEN Filbert Paint Brushes set includes 12 brushes of different sizes, all with soft synthetic bristles and short wooden handles.
Filber brushes are great for gouache because they have a flat head with rounded edges, making them perfect for painting large areas and small details.
Synthetic bristles are also less likely to shed than natural hair brushes, so you can use them without worry.
These are perfect for gouache, oil, acrylic, watercolor, and details like miniatures or craft art. Plus, the nylon brushes are anti-shedding and built to last.
DUGATO Artist Paint Brushes Set are great for gouache because they are versatile and easy to use.
The set of 10 brushes in various sizes comes with (2) angle brushes, (2) flat paint brush sizes, (3) filbert paint brushes, (2) round paint brush sizes, and (1) rigger.
These paint brushes are ideal for watercolor, oil, acrylic painting, body-face painting and paint-by-numbers for adults.
With proper care, these brushes will last a long time and provide great results with any medium.
What to Consider when Buying Brushes for Gouache
When it comes to choosing the best gouache brushes, there are a few things you need to take into account.
Brush Size & Length
Firstly, the type of brush you need will depend on the type of painting you're doing.
For example, if you plan on doing a lot of detailed work, you'll need a smaller brush.
However, a larger brush will suffice if you want to add some color to your painting.
Shape and Firmness
There are several different types of paintbrush shapes.
Round, pointed brushes are good for adding detail and making fine lines.
A Flat brush is good for covering large areas quickly.
And filbert brushes (which are flat brushes with rounded ends) are good for both large and small areas.
You can also use a broad brush to paint backgrounds or larger surface areas.
A fan brush and a mop brush are good for applying a wash of color. Fan brushes are also great for creating interesting textures.
As for firmness, you'll want to choose a brush with a good amount of stiffness so there aren't any stray bristles.
This will allow you to get fine lines and details without the brush losing its shape.
Natural Hair Brush vs Synthetic Brush
Secondly, you'll need to decide on the material of the brush. synthetic brushes are usually cheaper but don't always yield the best results.
On the other hand, natural hair brushes tend to be more expensive, but they'll give you a much better finish.
General Feeling
Finally, when you're choosing a brush, it's important to go with one that feels comfortable in your hand.
After all, you'll be using it for hours at a time and you don't want to end up with a cramp!
Can You Use Oil Brushes for Gouache?
One of artists' most frequently asked questions is whether oil brushes can be used for gouache.
The short answer is yes, but there are a few things to keep in mind before using them.
First, oil brushes are best suited for thicker paint applications, so they may not work well with thinner gouache.
Second, oil brushes tend to hold more paint than synthetic brushes, so you'll need to be careful not to load them up too much.
Lastly, it's important to clean your oil brushes after each use to prevent the paint from hardening on the bristles.
With these considerations in mind, oil brushes can be a great option for painting with gouache.
What Gouache supplies do you need for painting?
When it comes to gouache painting, you'll need a few key supplies to get started.
Gouache Brushes
First, invest in a set of good brushes. A variety of brush sizes and shapes will be helpful, as each type of brush can create a different type of mark.
You'll also need a good quality set of gouache paint. Choose a brand you trust and experiment with different colors until you find a palette you like.
I recommend Holbein Acrylic Designer Gouache because it's highly pigmented and has a nice matte finish. I also find that goes on incredibly smoothly and layers well.
Painting Surfaces
Next, you'll need a few different painting surfaces to work on.
Paper is the most common surface for gouache, but you can also paint on wood, fabric, and glass.
You'll also need good-quality paper or a sketchbook specifically designed for watercolor painting. You can use either cold or hot press watercolor paper, mixed media paper, bristol board, illustration board or thick drawing paper.
[Related Article: The Best Paper for Gouache Painting: Which Surfaces Work Best and How to Paint with Gouache )]
Make sure to tape your paper down so it doesn't buckle when wet.
Artist's tape also helps you define a clear border around your painting, which can be helpful when you're working on a detailed piece. Make sure to choose artist tape for delicate surfaces so that it doesn't tear or damage your paper.
You'll need somewhere to mix your paint, so an artist's palette is essential. Also, I prefer to use a ceramic or porcelain palette because I prefer mixing colors on a smooth surface.
Water Container for Gouache
You'll also need a water container for rinsing your brushes and thinning your paint. I like to use a glass mason jar because it's easy to clean and doesn't absorb colors the way plastic can.
Paper Towel
Always have paper towel on hand to blot your brushes and absorb any excess paint.
6B Pencil
I always start my gouache painting by drawing gout my subject matter first. Gouache paint easily covers pencil marks as you go along.
Optional but Helpful Supplies for Gouache
A nice-to-have but not essential tool is an easel for Gouache Painting.
Painting on an easel gives you a better perspective of your artwork and allows you to paint at different angles.
It is extremely helpful when working on larger pieces.
Did you know that you can use a palette knife for gouache painting?
A palette knife can help you mix colors, apply paint to your surface, and create interesting textural effects.
If you're interested in exploring this tool, I recommend getting a small one to start with so that you can get a feel for how it works.
Are watercolor and gouache paint brushes the same?
When it comes to painting, the type of brush you use can make a big difference in the final result.
Both watercolor and gouache are popular mediums for artists, but they require different types of brushes.
Watercolor brushes are typically made from natural fibers like sable or squirrel hair, which hold a large amount of liquid and release it gradually.
Gouache brushes, on the other hand, are usually made from synthetic fibers like nylon or polyester, which can provide a more precise application of color.
So, while watercolor and gouache brushes can be used for similar purposes, the best results will be achieved using the right brush for each medium.
Are sable brushes good for gouache?
When it comes to quality gouache brushes, sable brushes are often considered the best.
They are made from the soft, fine fur of the sable, a type of weasel that is native to Russia and China.
Sable brushes are prized for their ability to hold a large amount of paint and create smooth, even strokes.
They are also very resilient, maintaining their shape after repeated use.
However, sable brushes can be quite expensive, so they may not be the best option for everyone.
Other types of brushes, such as synthetic or hog hair, can also be used for gouache painting and may be more affordable.
Ultimately, the best brush for gouache painting is the one that best suits your needs and budget.
What is best to paint gouache on?
Gouache paint is a beautiful medium that can be used to create stunning works of art.
However, all experienced artists know that using the right type of paper or substrate is important when working with gouache, as not all surfaces are equally suitable.
For best results, look for a smooth, matte paper specifically designed for gouache or acrylic paint.
Fabriano watercolor blocks or Canson Montval watercolor paper are both excellent choices.
What is the best paper to use with gouache?
Firstly, the type of paper you choose will affect the overall appearance of your painting.
For a smooth finish, hot-pressed watercolor paper is ideal, whereas rough watercolor paper will add texture and dimension to your work.
Secondly, the weight of the paper is important – if you're planning on using a lot of gouache or working with wet washes, you'll need a heavy-duty paper that won't buckle under the weight of the paint.
Lastly, consider the color of the paper – if you want your painting to have a light background, choose a white or off-white paper; if you want a more dramatic look, go for black or another dark color.
Is hot or cold pressed paper better for gouache?
Hot-pressed paper has a smooth surface, which is ideal for achieving precise detail and bold colors.
Cold-pressed paper has a slightly textured surface, better suited for softer blending effects.
If you want to produce meticulous and vibrant artwork, hot-pressed paper is the way to go.
For more organic and subdued paintings, however, cold-pressed paper may be the better choice.
Is 200gsm good for gouache?
Yes, 200gsm paper is fine for gouache painting. However, if you are using a lot of washes or working wet-into-wet, you may want to choose a heavier paper to prevent buckling.
How do you get smooth gouache?
One of the best ways to achieve smooth and even strokes with gouache is to use a sable brush.
Sable brushes are made from the soft, fine fur of the sable, a type of weasel that is native to Russia and China.
Can you use the same brushes for gouache and acrylic?
Yes, you can use the same brush for gouache and acrylic paint. However, whether you're using a round brush or a liner brush, it is very important to clean the brushes thoroughly between uses to prevent the colors from bleeding together.
Is acrylic gouache the same as acrylic?
No, acrylic gouache is not the same as regular acrylic paint. Acrylic gouache is an opaque watercolor with a thicker consistency and dries to a matte finish.
What should you not do with gouache?
One of the most important things to remember when working with gouache is not to overwork the paint.
Gouache dries quickly, so it's easy to accidentally create a muddy color if you're not careful.
To avoid this, work in thin layers and allow each layer to dry completely before adding another.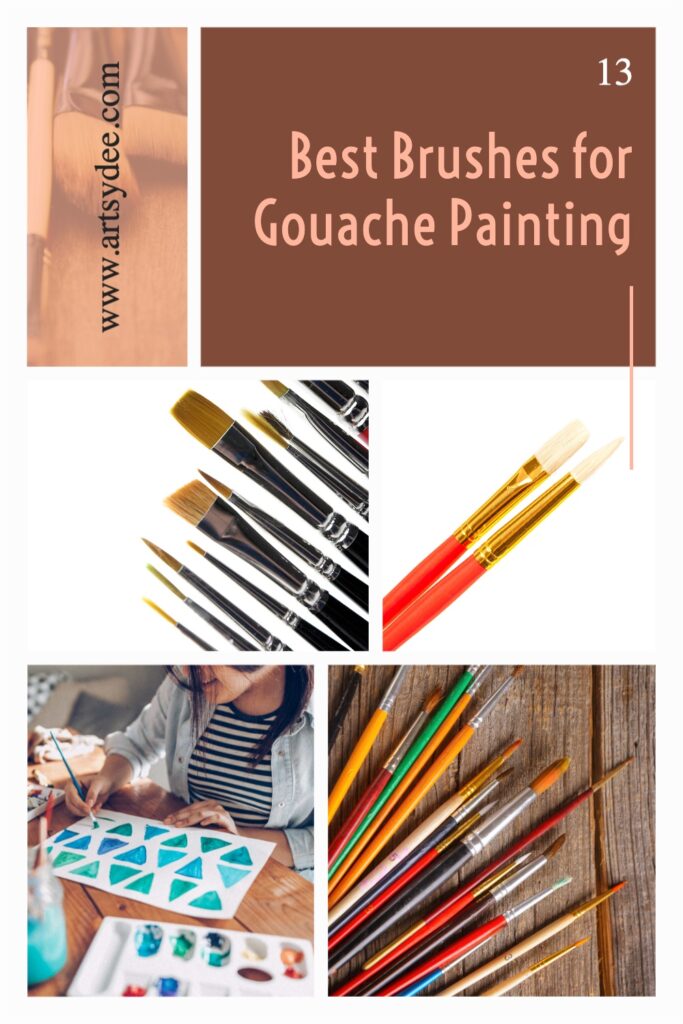 Conclusion
In conclusion, gouache is a versatile medium that can be used for a variety of purposes. Choosing the right brush for the job is important, and we hope our list of the 13 best gouache brushes has helped you do just that!
If you're starting out with this medium, don't be afraid to experiment – there are no rules when it comes to art! Just have fun and see what works for you.
Other articles you may enjoy…
Gouache vs Acrylic Paint | What's the best paint for you?
Himi Gouache Paint Set Review. What is so great about Jelly Paint?
The Best Soft Oil Pastels for Artists: A Review of Arrtx Oil Pastels
10 Best Black Paper Sketchbooks for Artists to Explore New Ways of Seeing
14 Best Watercolor Brushes for Every Level of Artist
Looking For a Mixed Media Sketchbook? 16 Best Mixed Media Sketchbooks for Wet & Dry Media
The 17 Best Art Journal Supplies | Exciting Essentials for Creative Art Journaling
How to Organize Art Supplies | The Ultimate Guide
Looking for the Best Watercolor Sketchbook