Last Updated on September 17, 2023 by Dee
Hey there, lovely readers! Are you in the mood for some cute drawings but need some inspiration? You've come to the right place!
Whether you're just looking for easy things to draw, a fun drawing to pass the time, or a new drawing idea to try in your sketchbook or doodle page, we've got you covered.
Thank you so much for stopping by, and let's dive into these cute things to draw that will bring a smile to your face!
150+ Cute Drawings
Unleash your creativity and find inspiration in our collection of cute things to draw, perfect for artists of all ages and skill levels.
From cuddly animals and charming chibi characters to irresistible sweets and captivating nature themes, each idea offers endless possibilities to create heartwarming artwork.
Explore various mediums and unique art projects that will bring a smile to your face and add a touch of cuteness to your surroundings.
Embrace your artistic side and let the cuteness overflow with these irresistible drawing ideas!
[Related: 101 Cool Designs to Draw]
Forest Animals:
Capture the enchanting essence of woodland creatures like foxes, deer, and owls. Their cute, innocent expressions make them lovable subjects. Use watercolor paints for a soft, ethereal look, and create a whimsical forest-themed mural.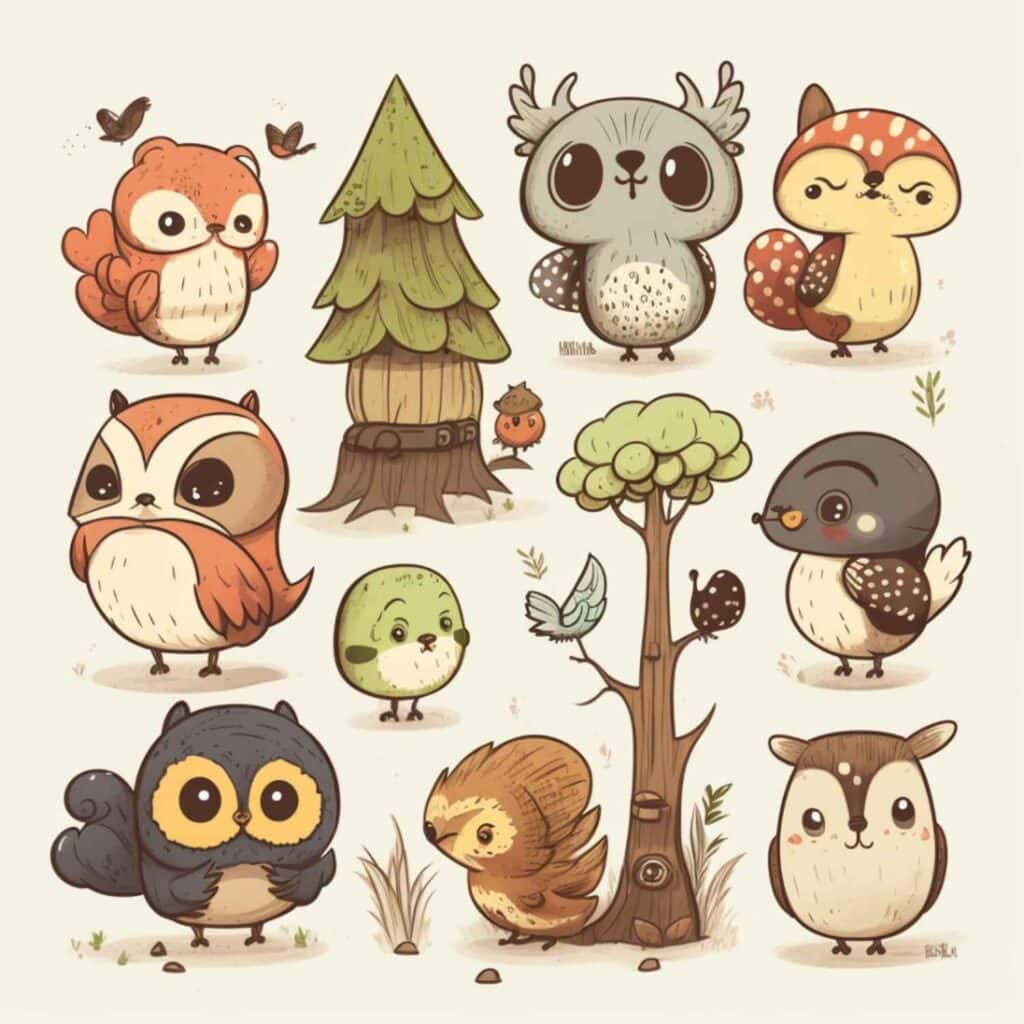 Frogs:
With their big eyes and chubby bodies, frogs are naturally adorable. Sketch them with colored pencils for a vibrant touch. Design a playful patterned fabric featuring these cute amphibians.
[Related article: Things to Draw When Bored]
Sheep:
Fluffy and gentle, sheep exude a sense of calm. Use pastels for a soft, dreamy appearance. Craft a cozy children's storybook illustration featuring these woolly animals. Use there Texture Drawing Examples to add character and visual interest to your art.
[Related article: How to Get Ideas for Drawing]
Birds:
The diverse world of birds offers endless inspiration. Their bright colors and quirky personalities make them irresistible. Experiment with acrylics for bold hues and create a captivating bird-themed calendar.
Ice Cream:
Sweet, fun, and nostalgic ice cream drawings bring joy. Use markers for a clean graphic style. Design a set of delightful greeting cards featuring various ice cream flavors.
Candy:
The vibrant colors and playful shapes of candy make them eye-catching subjects. Try gouache for a rich, opaque effect, and create a series of candy-themed pop art pieces.
Ponies:
These majestic yet cute creatures captivate with their flowing manes and gentle eyes. Use charcoal for a classic look, and design a series of pony-inspired minimalist posters.
Koala:
The cuddly koala is irresistibly cute with its round ears and fluffy appearance. Work with graphite pencils for a soft, natural feel. Illustrate an educational children's book about these unique marsupials.
Flowers:
The delicate petals and vivid colors of flowers make them perennial favorites. Experiment with ink and watercolor for a loose, expressive style. Create a botanical alphabet print using flower shapes.
Bunnies:
With their soft fur and twitching noses, bunnies embody cuteness. Use colored pencils for a detailed look, and design a set of bunny-themed nursery prints.
Fish:
The mesmerizing underwater world of fish is full of charm. Work with oil pastels for a vibrant, textured effect. Create a series of aquatic-themed art pieces for a bathroom or coastal retreat.
Puppies:
Puppies' playful demeanor and floppy ears make them lovable subjects. Try digital art for a modern touch, and design a collection of puppy-inspired phone wallpapers.
Adorable Cat Drawing Idea:
Their mysterious gaze and graceful movements make cats captivating. Capture their essence with ink and brushes for a fluid style. Create a series of minimalist cat-inspired tote bag designs.
Check out my cute cat drawing tutorial.
Pot Plants:
The diverse shapes and textures of pot plants add character to any space. Use mixed media for a unique look, and create a set of plant-inspired notebook covers.
Chibi Characters:
Chibi characters, with their exaggerated features and tiny bodies, are irresistibly cute. Use alcohol markers for vibrant colors, and create a comic strip featuring your own original chibi characters or chibi poses.
Cute Cartoons:
The expressive faces and lovable personalities of cute cartoons make them enduring favorites. Experiment with digital art for a modern look, and design a set of cute cartoon stickers.
Cute Butterflies:
The delicate wings and bright colors of butterflies make them enchanting subjects. Use watercolor for a dreamy look, and create a butterfly-themed mobile to bring charm to any room.
Hamsters:
Their round bodies and tiny paws make hamsters irresistibly cute. Sketch them with colored pencils, and create a set of hamster-inspired enamel pins.
Milkshakes:
The frothy layers and colorful toppings of milkshakes evoke a sense of nostalgia. Capture them with acrylics for a bold look
Other cute drawing ideas to try…
Ice Lollies:
An ice lolly drawing is a classic cute drawing idea to add to your collection. These sweet treats are perfect for a doodle page, and you can experiment with different flavors and toppings.
Animal Faces:
From adorable cat drawing ideas to fox drawing easy cute ideas, animal faces are a great way to de-stress and practice improving your drawing skills.
Cute Ghost Drawing:
Spookiness can be cute too! A cute ghost drawing idea adds a touch of whimsy to your sketchbook.
Toy Poodle Drawing:
For all the dog lovers out there, a toy poodle drawing idea is perfect for anybody who needs drawing inspiration.
Cute Panda Drawing:
Add a touch of cuteness to your sketchbook with an easy cute panda drawing next to your other animal drawings.
Adorable Giraffe Pencil Drawing:
This tall, yet cute drawing idea is perfect for those who love incorporating outer space elements like stars and galaxies.
Adorable Pig Drawing Idea:
A yet adorable pig drawing can be made even cuter with a simple accessory like a bow or hat.
Cute Flower Daisy Drawing:
Flowers are always a lovely addition to your doodle page, and daisy drawings are both easy and adorable.
Cute Fish Drawing Goldfish:
Add a splash of color to your sketchbook with an easy cute fish drawing idea.
Adorable Whale Drawing Idea:
A whale drawing easy cute design will make a big splash in your artwork.
Cute Teacup Drawing Idea:
For a warm and cozy drawing idea to draw, try a cute teacup complete with steam and a cute little doodle of a spoon.
Adorable Boy Girl Drawing or Cartoon People:
A cartoon chibi boy girl is an easy drawing idea perfect for capturing childhood innocence.
Cute Crayon Drawing Idea:
Bring out your inner child with a colorful crayon drawing idea.
Cute Cloud Drawing Idea:
A yet cute cloud drawing with its fluffy charm can brighten up any sketchbook or doodle page.
Adorable Alpaca Drawing Idea:
Bring some fluffiness to your artwork with an adorable alpaca drawing idea.
Ice Cream Drawing Cute:
Try adding adorable animal faces to your ice cream scoops for an ice cream drawing cute twist.
Cute Dinosaur Drawing TRex:
Make your artwork roar with cuteness by adding a chubby TRex dinosaur drawing idea.
Sun Moon Drawing Cute:
Create harmony in your sketchbook by incorporating outer space elements with a sun moon drawing cute design.
Chubby Elephant Drawing Idea:
For a heartwarming drawing idea to draw, try a chubby elephant enjoying a refreshing splash of water.
Boy Girl Drawing Idea:
A yet adorable boy girl drawing can be made even cuter by adding sparkly bubbly round eyes and rosy cheeks.
Dog Drawing:
From puppy drawing cute easy designs to specific breeds, dog drawings are always a favorite among artists.
Cute Heart Drawing Idea:
A simple and easy drawing idea, cute hearts can add a touch of love to any doodle page.
Anime Faces Cute Drawing:
Practice your anime skills with chibi boy girl faces.
More cute drawing ideas…

In the realm of art, there is a special corner dedicated to cute things to draw. This area is adorned with cool drawings that capture the essence of adorability.
From chubby animals to cartoon characters, these cute pictures are both fun to create and pleasing to the eye.
So, if you're wondering about some cute drawings to do, why not try drawing your best friend? Human or pet, they could be a fantastic subject.
Capture their personality with simple lines, shapes, and shades. A wonderful addition to this would be a friends forever doodle, a heartwarming symbol of your bond.
In essence, a friends drawing not only allows you to appreciate your companions in a unique way but also adds a personal touch to your collection of cool and cute drawings.
What can you use to create your own Cute Drawings?
As an avid artist and lover of all things cute, I've spent countless hours experimenting with various materials, mediums, and art supplies to bring my adorable creations to life.
The wonderful thing about creating cute drawings is that you can use any medium that speaks to you, allowing you to express your artistic vision fully.
[Related article: 136 Drawing Ideas for Adults]
When I started my artistic journey, I found pencils and sketchbooks as my best friends. The simplicity of graphite pencils allowed me to capture the essence of cuteness in my drawings, from fluffy bunnies to charming little people.
As I progressed, I ventured into the world of colored pencils, adding vibrant hues and depth to my artwork.
In search of new ways to bring my cute drawings to life, I turned to watercolor. Watercolor paints' soft, dreamy effect is perfect for capturing the whimsy of adorable subjects like flowers, birds, and candy.
I found that using high-quality watercolor paper significantly impacted my final results, allowing the colors to blend seamlessly.
One day, while exploring the local art supply store, I stumbled upon a set of alcohol markers. These markers opened up a whole new world of possibilities for me.
Their rich colors and blendable properties made them perfect for creating chibi characters and cute cartoons. The smooth, graphic look achieved with alcohol markers quickly became one of my favorite mediums for cute drawings.
Gouache, acrylics, and even digital art soon followed, each offering unique qualities that allowed me to experiment and grow as an artist. I discovered that using mixed media could add a special touch to my art, like combining ink and watercolor for a loose, expressive style in my butterfly drawings.
Whatever medium you choose, the key is to have fun and let your imagination run wild. High-quality art supplies can make a difference in your final results, but remember that practice and dedication bring your cute drawings to life.
So, gather your favorite materials, mediums, and art supplies, and let the world of adorable inspiration unfold before you.
Conclusion

As we reach the end of our cute drawings adventure, I hope you've discovered the joy and endless possibilities that come with embracing your creative side.
Remember, the world of cute things to draw knows no bounds, and you can experiment with various materials, mediums, and art supplies to find the perfect combination that brings your cute drawings to life.
Most importantly, don't forget to have fun and enjoy the process! Keep exploring, practicing, and letting your imagination soar as you continue to create heartwarming art that brings smiles to faces everywhere.
Now, pick up your favorite art supplies, and let the magic of cute drawings fill your heart and your sketchbook. Happy creating, fellow artists!
Other articles you might enjoy…
Master Your Craft: Choosing the Perfect Art Drawing Board for Your Creative Journey
The best iPad screen protectors for drawing in 2023
How to Do a Realistic Sunflower Pencil Drawing
What Drawing Erasers Do Artists Use? 5 Professional Erasers to Try