Last Updated on June 23, 2023 by Dee
Looking for a fun printable to help celebrate spring and summer? Look no further! These three free printable bumble bees will help you get in the mood for warmer weather. They are perfect for decorating your home or office, or for use in craft projects. We hope you enjoy them!
Table of Contents
3 x Free Printable Bumble bees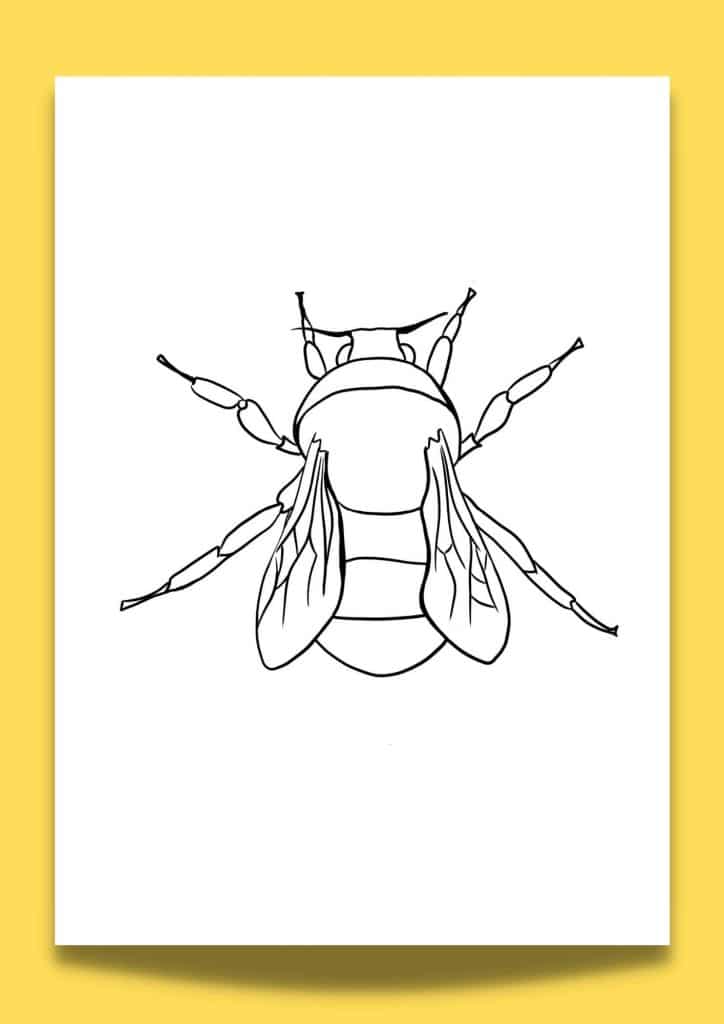 Download your bumble bee printable HERE!
How can we save bumble bees?
Bumble bees are amazing creatures and essential pollinators, playing a key role in the reproduction of many plants and crops. However, these important insects are in decline, due to a variety of factors including habitat loss, pesticide use, and climate change.
So what can be done to save these vital creatures?
One important step is to create a bumble bee-friendly habitat. This can be done by planting native flowers and herbs that bloom at different times of the year, providing a continuous food source for bees.
In addition, avoid using pesticides in your garden, as these can be harmful to bees. Finally, you can also help by supporting organizations that are working to protect bumble bees and other pollinators.
By taking these steps, we can help ensure that these important insects will be around for generations to come.
Why are bumble bee templates a great way to celebrate spring?
Spring is a time of new beginnings, and what better way to celebrate the season than by embracing all things nature? Bumble bees are one of the first insects to emerge after a long winter, and their arrival signals the start of spring.
If you happen to get stung by a bee (and aren't actually allergic) check out this herbal drawing salve.
These cute and furry creatures are also an important part of the ecosystem, helping to pollinate flowers and crops. One way to show your appreciation for bumble bees is to use them as inspiration for Spring crafts.
While there are many ways to do this, bumble bee printable templates are a great option as they can be easily downloaded and used to create a variety of projects.
Best of all, they're also so much fun to make! So why not get creative this spring and make some bumble bee-themed crafts? It's sure to be a buzz-worthy activity for the whole family!
What can you do with your bumble bee printable?
Decor
Print your bumble bees on colorful paper and use them to decorate your home or office.
Easy Bumble Bee Craft
Cut out your bumble bees and use them to create one-of-a-kind crafts. For example, you could glue them onto a wreath, make a mobile, or even create a life-size bumble bee costume!
Gifts
Print out some bumble bees and use them to make homemade gifts for your friends and family. For example, you could print them onto cards or gift tags, or even create a photo frame decorated with bumble bees.
Art Journaling
Use your printable bumble bees in your art journal to add a touch of springtime whimsy. Cut out the bee's wings and craft an interesting pop-up on a spring theme page.
Trace the shape of the bumble bee printable onto photo paper to get an interesting glossy effect.
Invitations
Print your bumble bees onto cardstock and use them to make invitations for a spring or summer party or picnic.
Scrapbooking
Add some printable bumble bees to your scrapbook pages for a touch of nature-inspired embellishments.
Bee coloring pages
Use your printable bumble bees as templates to create some fun and unique bee coloring pages. Simply print the bee printables and use them as bee coloring pages – let your creativity flow! Coloring is therapeutic for both adults and children and is a fun way to practice your child's fine motor skills.
Create Stickers
Print your bumble bees onto sticker paper and use them to decorate notebooks, laptops, or even your car!
Watercolor brush pen Bumble Bees…
Use watercolor brush pens to color your printable bumble bees. I use Arteza Real Watercolor Brush Pens and they are perfect for coloring your artwork in a professional manner!
This is a fun and easy brush pen project that is great for both children and adults!
Watercolor brush pens are awesome for creating a watercolor effect for art and craft projects.
To help you out, I have put together these printable templates so that all you have to do is transfer the shape onto your watercolor paper and fill them in with your watercolor brush pens, or watercolor paint.
If you would like to try this out, you should transfer the bumblebee template to watercolor paper. This is how…
How to Transfer the Bumble bee Printable to Watercolor Paper (Method One)
Print out your bumble bee printable on standard printer paper.
Tape your printed template to a window with light behind it so that you can see the outline of the poinsettia coming through.
Using a soft lead pencil (2B, 4B, 6B, or 8B), trace over the printed outline of the poinsettia Template so that you can see through the paper. Do this quite firmly so that you have left enough lead on the surface to be transferred easily onto the watercolor paper.
Place your printed bumble bee printable with the traced pencil outline face-down on your watercolor paper.
Using your pencil once again, trace the printed bumble bee outline so that the pencil line gets transferred to your watercolor paper.
Voila! You have your transferred shape, and you don't need to hand-draw it yourself!
Now you can use your watercolor or watercolor brush pens and start your painting!
How to Transfer the Bumble Bee Template to Watercolor Paper (Method Two)
Here are some quick steps to get your printable bumble bee template ready to use.
Open your template and select print.
Choose the size you want to print to.
Print the stencil onto a mylar transparency sheet. (Alternatively, you can print the bumble bee onto a standard piece of paper and then trace it onto a piece of plastic mylar after)
On a cutting mat, use a craft knife to carefully cut out the shapes of your bumble bee.
Your stencil is now ready to use.
How to Create Watercolor Stencil Art
Place your bumble bee template on watercolor paper.
Tape down your sheet of watercolor paper using artist masking tape.
If you want to, you can start your watercolor painting by first applying a light wash of color before you begin with your top layer. This can create a lovely layered effect!
Spray the back of your bumble bee stencil using spray adhesive and stick it on your watercolor paper.
Start applying washes of watercolor over the paper and the stencil. You will find that to paint into the crevices, and small spaces of the stencil you need to manipulate your paintbrush. It is important that the watercolor paint doesn't bleed underneath the stencil, so always work with a light touch.
Allow the paint to dry fully before removing the stencil.
Use warm water and soap to gently wash the stencil (if using a plastic watercolor stencil) so that it can be reused and is ready for the next time!
How to display your bumble bee templates as wall art
Whether you're looking to add a splash of color or simply want to bring a bit of nature indoors, printable bumble bee templates are a great way to add some charm to your home décor.
And best of all, they're incredibly easy to use. Just print out the template of your choice, cut out the bees, and then mount them on cardstock or construction paper.
Then, use a bit of tape or glue to attach them to your wall. Voila! You've now got instant wall art that's sure to brighten up any room. So why not give it a try? You may just be surprised at how easy it is to transform your space with just a few simple printed bee templates.
How to print your bumble bee template
Printing out a PDF is quite easy. The first thing you need to do is open up the PDF file in Adobe Reader. Once the file is open, go to the File menu and select Print.
A new window will pop up with all of the print options. Make sure that you select "Fit to Page" so that the entire PDF will print out on one sheet of paper.
Then just click OK and your PDF will start printing!
Conclusion
I hope you enjoy these free printable bumble bees! If you create something with them, I'd love to see it. Please share your photos with me on social media or in the comments section below. And if you have any questions about the printables or how to use them, please don't hesitate to reach out. I'm always happy to help.
Happy crafting 🙂
More printables you may enjoy…
Looking for things to draw on your hand? 50 Easy drawing ideas for 2022
21 Butterfly Stencil Templates | FREE Printables for Your Creative Projects!
Looking for a Mandala Template? 10 FREE Mystical Mandala Printables to Create your Own Mandala!
Looking For a Magical Seahorse Template? 9 FREE Seahorse Printables for Your Art-Making!
25 Fabulous Flower Templates | FREE Printables for Your Creative Projects.
Looking for a Palm Tree Template? 8 Free Palm Tree Printables for your creative projects!
Looking for a Mermaid Tail Template? 5 FREE Magical Mermaid-Tail Printables.
Looking for a Pineapple Stencil Template? 5 FREE Fruity Pineapple Printables!