Last Updated on July 27, 2023 by Dee
Looking for a Tulip Template? Springtime is around the corner and that means one thing – tulips! These beautiful flowers can be used for all sorts of crafts, from greeting cards to quilts.
If you're looking for some free tulip templates to help get you started, look no further. I've created five delicate tulip templates for you to use in your arts & crafts. Feel free to bookmark this post and come back when you're ready to start crafting.
Tulips are waiting!
Table of Contents
5 x Fabulous Tulip Templates
Signup below to get your 5 Free Tulip Printables 🙂
Why we love tulips:
Few flowers are as beloved as the tulip. With its bright colors and cheerful shape, the tulip is a welcome sight in any garden. But there is more to this popular flower than meets the eye. For starters, tulips are incredibly easy to grow.
They are also one of the longest-lived flowers, with some bulbs surviving for over a hundred years. And did you know that tulips come in over 3,000 different varieties?
Although they are often associated with springtime, tulips are actually native to a region that stretches from Southern Europe to Central Asia.
These vibrant flowers come in a wide range of colors, and their cup-shaped blooms make them a popular choice for bouquets and arrangements.
Tulips are also relatively easy to care for, and they can bloom for up to six weeks.
What can you do with your tulip template?
**This page may contain affiliate links to products I have used or recommend. If you purchase something from this page, I may receive a small percentage of the sale at no extra cost to you.**
When it comes to tulip crafts, a tulip craft template can be a useful tool. Whether you're creating a paper tulip or a fabric one, a template can help you get the perfect shape.
And once you have the basic template, you can use it over and over again to create different crafts.
Tulip crafts are not only fun to make, but they are also incredibly rewarding. There is something fulfilling about taking a simple piece of paper and turning it into a beautiful work of art. And when it comes to tulip crafts, the sky is the limit.
You can make anything from a simple paper tulip to a more complex and realistic one.
You can even add other elements to your tulip craft, such as leaves or stems, to really make it stand out, so if you're looking for a fun and creative way to spend an afternoon, grab some supplies and give tulip crafting a try.
Tulips are one of the most popular flowers, and they make beautiful crafts. If you're looking for a printable template to use for your next project, this collection of tulip templates is perfect for a variety of projects, from coloring pages to making your own paper tulip flower. And best of all, they're all free to download and print.
To get started, choose the tulip template that you like best. Then, print it out on regular printer paper or cardstock. Once you have your template, you can use it to create a variety of different crafts.
There are so many ways you can use these tulip templates to add a floral aesthetic to your projects.
Here are some creative ideas for you to try:
Use Them as Tulip Coloring Pages
One of the simplest ways to use these tulip templates is to print them out and use them as coloring sheets. Use coloring pencils, crayons, or markers to complete your printable template.
Coloring pages are great for both kids and adults! Coloring pages are a great way to improve children's fine motor skills, as well as just being a fun thing to do!
Stenciling
Another great way to use this flower template is to create a tulip stencil. Stencils can be made using your cutting machine (Cricut or Silhouette) or can be cut out by hand. You can use them to craft all sorts of patterns and designs – the sky is the limit!
Cards
Tulips make great cards and invitation designs. Use your tulip templates to create some beautiful DIY cards for all occasions!
Use a tulip flower to craft a beautiful Mother's day card!
Gift Tags
Tulip templates are also perfect for creating pretty spring season gift tags. Simply print them out on cardstock, cut them out, and hole punch them. Then add some string or ribbon and you're all set!
Scrapbooking
Printable Tulips also make beautiful scrapbooking embellishments. Use your tulip templates to create some pretty paper flowers to decorate your scrapbook pages.
Wrapping Paper
Need some pretty wrapping paper for a springtime gift? Use your tulip templates to create some DIY wrapping paper. Simply print the flower template on regular printer paper or stick them onto tissue paper or crepe paper, depending on the look you're going for.
Decor!
These tulip templates can also be used to make all sorts of super simple home decor items. Transform them into wall art, coasters, or even jewelry!
Art Journaling
Use your tulip templates in your art journal for some added creativity. You can use them as is, or trace around them and add some color!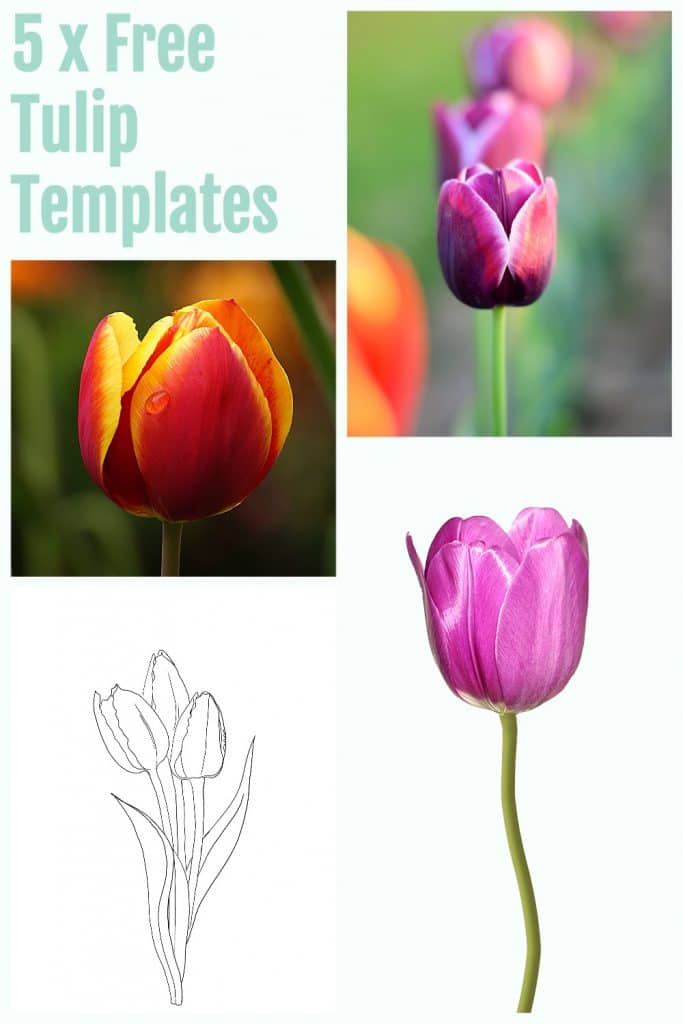 Tulips are one of the most popular flowers in the world, and it's easy to see why.
If you're looking for a way to add a touch of spring to your home, why not try your hand at watercolor brush pen tulips? With a few simple supplies, you can create your own stunning floral arrangements.
To get started, you'll need some tulip templates, watercolor paper, brush pens, and watercolors. (You can also use a paint brush to develop your painting further)
Once you have all of your supplies, begin by tracing the tulip template onto the watercolor paper.
Next, use the brush pens to fill in the traced lines with color.
Finally, paint over the entire image with watercolors to add depth and dimension. With a little practice, you'll be able to create beautiful watercolor brush pen tulips that will brighten up any space.
How to make 3D paper tulips:
To craft a simple paper tulip, you will need:
1 sheet of green construction paper
1 sheet of white paper (or other colors for bright flowers)
Paper Straw
Scissors
Tape
Glue Stick
Ruler
Instructions:
Begin by cutting a strip of green construction paper that is 1 inch wide and 12 inches long.
Fold the green strip in half lengthwise and use a pencil to mark the center of the fold.
Cut eight 1-inch slits along the fold, making sure not to cut all the way to the center mark.
Unfold the paper and accordion fold it, folding each section toward the center mark.
Tape the end of the accordion folded paper to secure it.
Next, take your white construction paper and cut a circle that is 4 inches in diameter.
Cut the circle in half and then cut each half into four equal wedges.
Accordion fold each wedge and then tape the end to secure it.
To assemble the tulip, glue the green accordion strip to the center of one white wedge.
Wrap the excess green paper around the back of the wedge and glue it in place.
Repeat this process until all eight wedges are assembled into tulips.
Use tape to stick your tulip onto a paper straw so that it now has a stem.
Your simple paper tulips are now complete! You can use them to decorate your home or office or give them as gifts.
Frequently Asked Questions about
How many petals does a tulip have?
A tulip typically has three to six petals. However, there are some varieties that have up to 12 petals.
How do you make paper tulips for kids?
One simple way to make paper tulips for kids is to accordion fold strips of green and white construction paper. Glue the green strip to the center of a white wedge, wrap the excess green around the back and secure it in place. Repeat this process until all eight wedges are assembled into tulips.
What temperature do tulips need?
Tulips need cool temperatures to grow and bloom. They should be planted in the fall and will typically bloom in the spring.
Conclusion
Tulips are a beautiful and popular flower that can be enjoyed in many different ways. From simple paper crafts to stunning watercolor paintings, there are many ways to create tulips to brighten up any space. Use a free tulip template above to get started on a fun flower craft 🙂
Other templates you might like…
Looking for a Flower Pot Template? 13 Delightful Flower Pot Printables
Tree Template without Leaves (5 Free Printables)
5 FREE Carrot Template Printables!
7 FREE Shamrock Template Printables
Looking for an Acorn Template? 9 FREE Acorn Printables!
Looking for a Poinsettia template? 5 FREE Poinsettia templates!
Christmas Wreath Template| 6 FREE Printables to Get You Feeling Festive!