Last Updated on January 31, 2023 by Dee
Free Flower Brush Procreate: Flowers are one of the most beautiful things in the world. They can brighten up any room and make you feel happy. In this blog post, we are going to share with you 33 free flower stamps that you can use in Procreate. These stamps were all hand-drawn, and they will add a touch of elegance to your designs.
So download these free Procreate brushes now and start creating beautiful flower arrangements 🙂
Table of Contents
33 free flower stamps for Procreate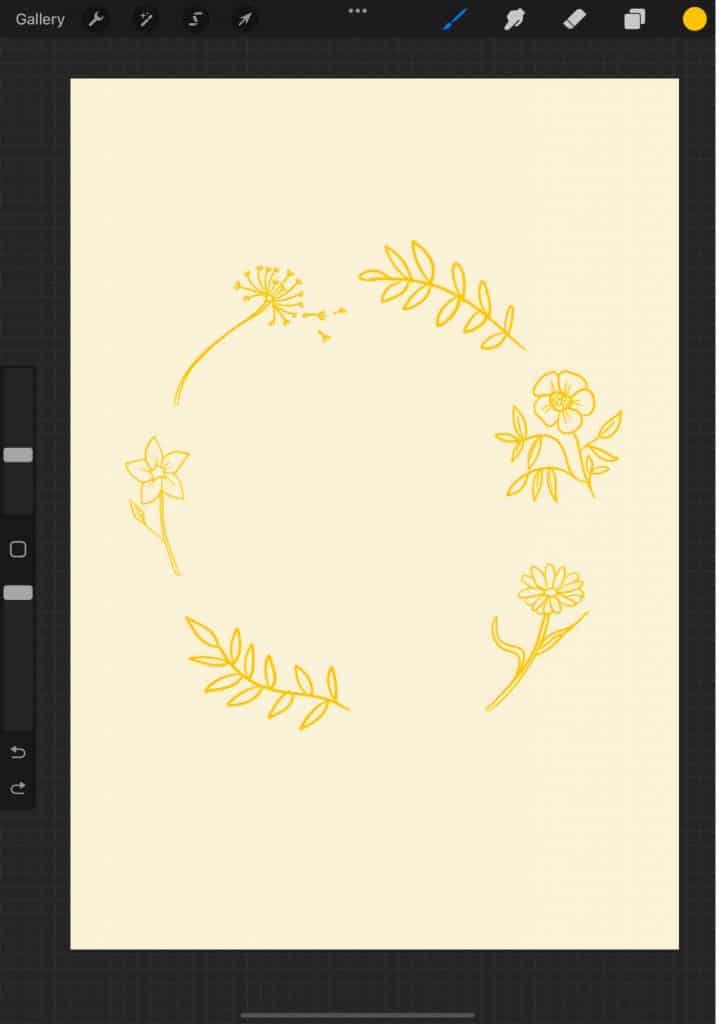 Signup below and get access to the free Flower Stamps for Procreate…
You can also purchase a set of my premium flower brushes:
Buy Now
Buy Now
Buy Now
What are Procreate brushes?
Procreate brushes are a specialized type of add on or brush that is designed specifically for use with the Procreate app.
These brushes vary in terms of size, shape, and stability and can be used for a variety of different purposes.
For example, some Procreate brushes are designed to be used with more painterly brush strokes, while others are better suited for other projects like drawing or sketching. In addition, Procreate brushes can also be customized to suit the user's individual needs and preferences.
As a result, they offer a high level of flexibility and versatility. Whether you're a beginner or an experienced user, Procreate brushes can help you create stunning artwork.
What are flower stamps, and why are they useful?
A Flower stamp is essentially a procreate flower brush (with a flower brush shape) that with just a few taps gives you an easy way to add a touch of elegance to any project. They can be used to embellish cards, scrapbook pages, and even gifts.
But what exactly are procreate flower stamps? Procreate is a digital drawing and painting app that allows users to create their own stamp brushes.
I have created these free Procreate add ons to help you develop your own designs in the Procreate app. This brush set have included 33 different flowers for creating patterns with your apple pencil.
And because these brushes for Procreate can be resized and rotated, they're perfect for adding a personalized touch to any project.
Best of all, procreate flower stamps can be printed on any paper, making them ideal for coordinating with other floral elements or ink brushes in a design.
Whether you're a seasoned crafter or just getting started, flower stamps are a great way to add a little something extra to your next digital art project.
How to use flower stamps in Procreate
Procreate is a powerful digital painting and drawing app for the iPad that has gained a lot of popularity in recent years.
One of the reasons for its popularity is the wide range of features it offers, including the ability to import and use custom stamps.
Flower stamps are a great way to add a touch of color and interest to your Procreate paintings, and they can be used in a variety of ways. They are a must-have tool for any Procreate artist.
You can use them to add texture, create layers of interest, or even just for decoration. With so many flower stamps available in the digital world, you're sure to find something that perfectly fits your style and aesthetic!
Experiment with different sizes, shapes, and colors to find what works best for you. Have fun creating beautiful works of art, and be sure to share your creations with us on Instagram!
Ideas for what you can do with a Floral Brush set.
A floral brush set can be used for more than just creating floral illustrations. With a little bit of creativity, they can be used for a variety of purposes.
Use them to add accents.
Procreate flower brushes can also be used to add accents to other elements in your painting.
For example, you could use a flower Procreate brush to add dots around the edge of a circle or square.
You could also use them to create borders or frames. Experiment with different arrangements in the brush pack and color combinations to see what looks best.
Use them to make boho-inspired designs.
Boho-inspired designs are all the rage these days, and flower Procreate brushes are the perfect way to add a touch of bohemian flair to your Procreate art by painting flowers.
Make Mandalas
Try using them to create mandalas or other geometric patterns. Or use them to add texture and interest to plain backgrounds.
Create digital coloring pages.
One of the best things about flower stamps is that they can be used to create digital coloring pages.
This is a great way to relax and unwind, and it's also a great way to practice your Procreate skills.
Simply stamp out a design on a blank page, and then color it in using your favorite Procreate brushes.
You can also add other elements to the coloring page, such as line art or words.
How to actually use flower stamps in Procreate
First, you need to download the brushes stamp file to your iPad – you will get this file as an instant download as an email when you signup 🙂
Once you have your Procreate brushes/stamp file and can import them into Procreate.
If you want to use the stamps as objects, you'll need to resize and rotate them so they fit into your scene.
Once you're happy with their placement, you can simply color them in with your chosen colors or create a pattern or a pretty wildflower scene.
If you're using imported stamp images, you'll need to select the brush tool from the tool menu and then choose your desired stamp from the library.
You can then resize and rotate the stamp as desired before placing it in your scene and painting it.
With a little practice, you'll be able to create stunning Procreate paintings that feature beautiful flower stamps.
So get creative and have fun! Just remember these Procreate stamps cannot be used as Photoshop brushes.
Create your own Rose stamps.
To create your own rose stamp in Procreate, you can use this rose template I have drawn. This is a great way to practice creating your own Procreate Flower Brushes 🙂
To create a new brush in Procreate:
Creating a new brush in Procreate is a simple process that can be completed in a few steps.
First, open the Brushes menu and select the New Brush icon. This will open a new window where you can choose from a variety of brush settings.
Select "Shape" and choose the Rose jpeg from the image gallery on your iPad.
Once the Rose shape appears, tap the shape screen with two fingers so that it converts it to a negative shape.
You can then adjust the path and other settings to your desired brush style.
Once you have selected the desired settings, tap the Save button and give your new brush a name.
That's all there is to it! With just a few taps, you can easily create custom brushes that will help you achieve the perfect look for your artwork.
Conclusion
Flower Brush Procreate: If you're looking for a way to add a touch of color and interest to your Procreate paintings, these beautiful, free brushes will do the trick! With a little bit of creativity, they can be used in a variety of ways to create stunning artwork.
Check out my premium brushes HERE.
So what are you waiting for? Get started today and have fun creating digital art and design 🙂
Other articles you may enjoy…
Looking for things to draw on your hand? 50 Easy drawing ideas for 2022
Best iPad for Procreate 2022 (July)
21 Procreate Coloring Pages to Help You De-stress and Relax
Can you use procreate without an apple pencil? Procreate Tips! (2022)
How to Color in Procreate: The Ultimate Guide (2022)
Procreate Palm Support | The Ultimate Guide for Digital Art (2022)
How To Trace On Procreate in 11 Easy Steps (2022)
Krita vs Procreate: What's the best one to use? (2022)
Is Procreate worth it for beginners in 2022?
How to Draw a Straight Line in Procreate? Easy tips for digital drawing (2022)