Last Updated on October 31, 2022 by Dee
Looking for a fun umbrella template to use in your next creative project? Here are 6 free umbrella printables that can be used for everything from painting to art journaling.
Just download and print them out, and you're ready to go!
Table of Contents
What can you do with a printable umbrella outline?
An umbrella is a timeless symbol of protection from the elements.
Whether you're braving a rainstorm or shielding yourself from the sun, an umbrella can provide much-needed relief from the elements.
But umbrellas aren't just for rainy days; they can also make a great addition to any outdoor décor.
These free printable umbrella templates can be used to create a variety of fun and practical projects.
For example, you can use it to make a personalized gift for someone special. Or, you can use it to make a one-of-a-kind stencil for your next painting project.
6 x Free Printable Umbrella Templates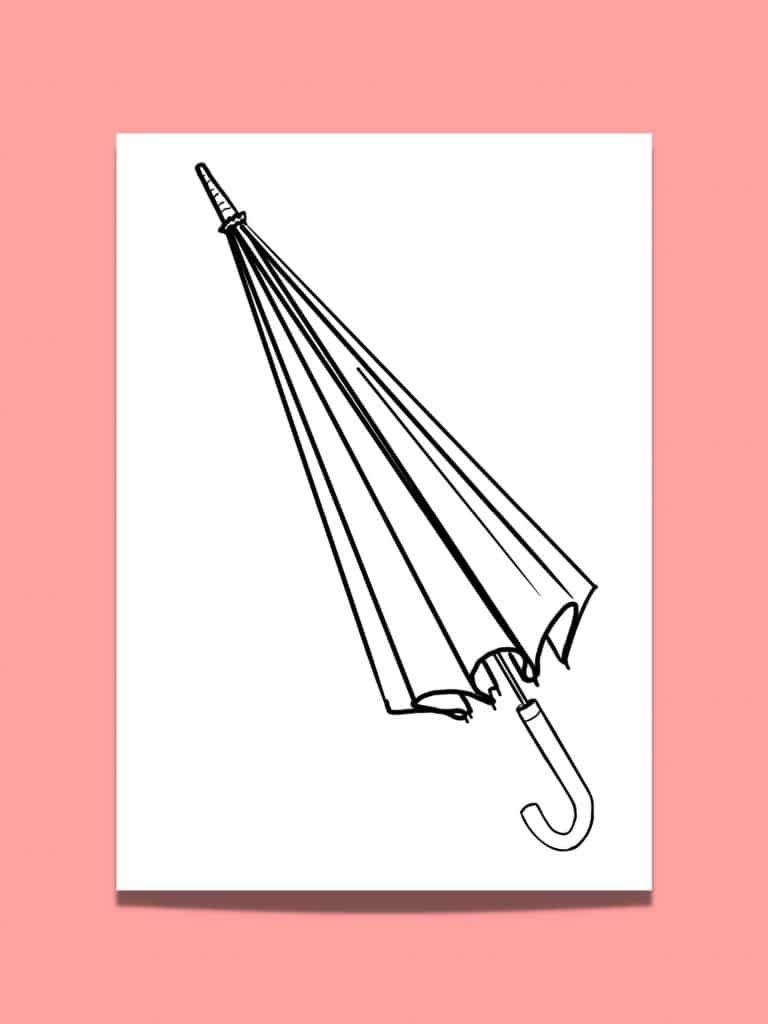 Download your umbrella templates here!
The form you have selected does not exist.
How do I make my free umbrella templates the right size?
*This page may contain affiliate links to products I have used or recommend. If you purchase something from this page, I may receive a small percentage of the sale at no extra cost to you.**
I have designed 6 different free printable umbrellas saved in JPG format in A4 size – so printing is easy!
They may be printed on any printer, cut apart as desired, or used as a sketch for a watercolor painting by transferring them to watercolor paper.
If you want to print out an umbrella template on a larger A3 sheet then make sure to 'set to size' on your printer settings.
What can you do with your free printable umbrella template?
The umbrella templates can be used for a wide range of art projects and activities:
As coloring pages
As part of an art therapy project
In an art journal
As a starting point for a painting project
To make paper umbrella craft projects
For card making, decoupage, and spring crafts
As stencils for painting or drawing
Make umbrella patterns
Other Ways to Use your Free Printable Umbrella Template
Party and Celebration Decor!
Decorate your patio, lounge, kitchen, or any other room in your house or office with some printable umbrellas!
Cut out the template and paint over it onto cardstock or watercolor paper, using watercolor, watercolor brush pens, or even spray paint.
Print out the printable umbrella template on bright-colored cardstock or paper, cut out the shapes, and create your own bunting to decorate walls or doorways.
Art Journaling
Use the free printable umbrella template on colored paper to design creative shapes, backgrounds, patterns, or focal points in your art journal.
Invitations
Color your printable umbrella templates with markers or watercolor to create a colorful party invitation!
Free Printable Umbrella templates for Coloring in
If you like to color in, you can use these as umbrella coloring pages. This is a fun way to add bright colors and creativity to your doodling.
Stick your umbrella coloring on walls or gift wrap for added decoration!
Use the umbrella templates on clothing or fabric
You may use these printable umbrellas to print directly on clothing or fabric. Make your own t-shirt design!
If you want to use designs from your shirts, hats, or bags as cute-themed accessories, just cut them out and sew them onto t-shirts, caps, or luggage.
Make your own personalized umbrella apron, tablecloth, or bag with fabric paint over the template!
Create Stickers
Create your own umbrella stickers by printing the templates on sticker paper and cutting out the shapes.
You can then use these stickers for anything you like!
Use them to name party favors, wrap snacks in gift bags or boxes, and make table place cards for every occasion – the possibilities are endless with these printable templates!
What is the Right Digital Art Canvas Size? Important things to Consider to Make the Best Choice.
Watercolor brush pens may be used to color your umbrella template. I use Tombow Watercolor Brush Pens and they are ideal for coloring artwork in a professional manner. They are also so much fun!
This is a fun and easy brush pen project that is great for both children and adults!
Watercolor brush pens are fantastic for adding a watercolor vibe to artwork and … umbrella craft projects.
To help you out, I have put together these printable templates so that all you have to do is transfer the shape onto your watercolor paper and fill them in with your watercolor brush pens, or watercolor paint to make your own umbrellas.
If you would like to try this out, you should transfer the umbrella template to watercolor paper. This is how…
How to Transfer the Umbrella Template to Watercolor Paper
Here are some quick steps to get your template ready to use as a stencil for some umbrella craft…
Open your free printable tree PDF and select print.
Choose the size you want to print from the drop-down menu.
Print the stencil onto a mylar transparency sheet. (Alternatively, you may simply print the umbrella template on a standard piece of paper and then trace it onto a piece of plastic mylar)
To make the ribs of your umbrella, use a craft knife to carefully cut out the shape of your umbrella on a cutting mat.
You can also simplify the cutting process by using a Cricut digital cutting machine. I absolutely love mine and it has made art making so much easier 🙂
Your stencil is now ready to use.
Conclusion
I hope you enjoyed this roundup of umbrella template printables and are inspired to start an umbrella craft project for a rainy day 🙂
Please let me know in the comments below which umbrella template is your favorite, and how you will use them in your creative projects.
Happy crafting! 🙂
Other free templates you may enjoy…
21 Butterfly Stencil Templates
5 Free Carrot Template Printables
7 Free Pig Template Printables
8 Free Angelfish Template Printables
7 Free Shamrock Template Printables