Last Updated on April 28, 2023 by Dee
Are wondering what drawing apps are the best to use for digital art? Procreate vs Illustrator? This is a question that has been asked time and time again, with people giving a huge range of various answers. Some swear by Procreate while others prefer Illustrator.
So, which one should you be using? In this post, I'm going to compare the two digital drawing apps in detail so that you can make an informed decision about which is the best for you.
Table of Contents
Is Procreate better than Illustrator?
When it comes to digital drawing, the two most popular programs are Procreate and Adobe Illustrator. But which one is better? In order to answer that question, we need to first understand the difference between the two programs.
The Difference between the Digital Art Programs
At the most basic level, Procreate is much closer to real-life drawing and painting than Adobe Illustrator.
When creating digital art on Procreate, one uses a stylus or Apple Pencil (or even your finger) to draw or paint on the canvas. We call these hand-drawn raster images.
[Related article: The Best iPad for Procreate]
In Adobe Illustrator, digital artists and designers mostly create images and digital artwork out of shapes and lines.
Most of the time this is done with a mouse on a PC or Macbook. However, you can download Illustrator onto your iPad and use your Apple Pencil to design vector images.
That brings me to my next point. Procreate allows you to create solid raster images. Essentially, rasters are images made up of lots of pixels. They are solid and cannot be infinitely enlarged. If a raster image is enlarged beyond its original canvas size, it will become pixelated and blurry.
Adobe Illustrator allows you to create vector images. Vectors are shapes and artwork that are made up of lines and can basically be enlarged infinitely. So vector images and file types are used for very large display purposes or printing!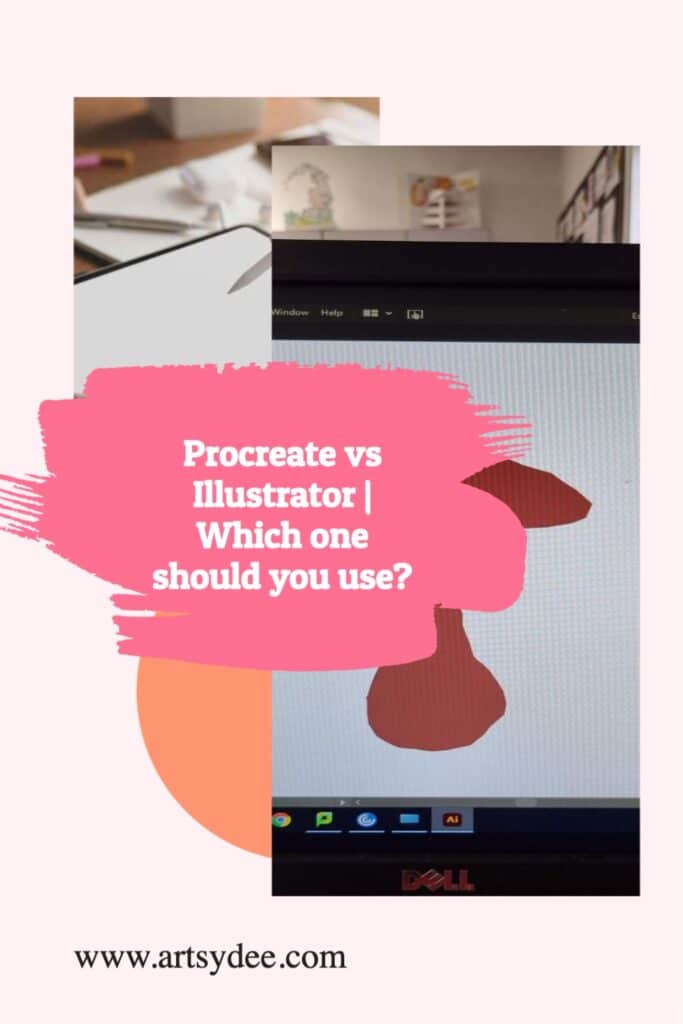 Procreate vs Illustrator: Quick Comparison
1. Main Features
Both Procreate and Illustrator have tons of fantastic characteristics for their design software. Procreate is ideal for creating digital art, but Illustrator can do it all in the realm of vector graphics.
2. How must do they cost?
For the price, Procreate wins. The app is only $9.99 in the App Store, as opposed to an unlimited subscription required by Illustrator.
[Related article: How to Trace on Procreate]
3. Illustration in Procreate vs Illustrator
Procreate is a fantastic illustration program. The painting environment is comfortable and natural, with many brushes and instruments for sketching and painting.
4. Logo and Graphic Design
To create logos, Illustrator is far superior to Procreate. Why? Because the program is vector-based, you may scale the logo to any size without losing quality, making it perfect for brand campaigns.
5. Mac vs PC
Adobe Illustrator is a vector graphics program that may be used on computers, iPads, and smartphones. It's available for both Mac and Windows and works with iPad, desktop, and mobile devices (Adobe Sketch is a sister program of Illustrator). Procreate is only accessible via the iPad with its sibling app for iPhones, Procreate Pocket.
6. Easiest to Use
Procreate is a more user-friendly program than Adobe Illustrator. Both programs provide a wealth of instructional material. Procreate is simple to learn and allows you to get started right away.
[Related article: How to Undo on Procreate]
7. Which is more cutting-edge?
Both Illustrator and Procreate will endure the test of time. They have a lot of features and continue to improve the programs to keep up with the ever-changing software environment.
What is Adobe Illustrator?
One of the best Adobe apps is Illustrator. Adobe's Illustrator is a professional vector-based graphics program for creating vector designs on your computer that requires minimal hand drawing. This helps in creating free-form objects.
Developed and marketed by Adobe, Illustrator is a professional graphics software that allows you to bring your creative ideas to life with shapes, colors, effects, and typefaces.
Adobe Illustrator is a powerful, yet user-friendly program that has revolutionized the way people create things. It's used by millions of skilled professionals and aspiring artists worldwide to make everything from bespoke shapes, logos, and icons to stunning artwork, illustrations, product packaging, and billboards.
Vector curves and forms are employed in Illustrator to construct and adjust the workspace to your needs, and it supports drawing tablets for a more natural feel when creating digital illustrations.
Adobe Illustrator is used in a wide variety of industries, from print media and advertising to web design and fashion. It's also popular with hobbyists and anyone who wants to create vector art.
It's quite adaptable, so you may arrange panels, tools, and menus to your liking. You can swiftly create and modify forms with the many drawing tools available.
What is Procreate?
Procreate is one of the most popular design apps and software for iOS and iPadOS. Procreate is a fantastic tool for anyone wanting to create the natural feel of drawn physical objects with a touch of digital creativity.
Procreate is a digital painting app that's packed with hundreds of handmade brushes, giving you everything you need to paint lifelike strokes, textures, emotive sketches, beautiful works of art, and stunning pictures in a super mobile and simple-to-use interface.
Procreate is a hand-drawn raster design program for the iPad with the creative and adaptable Apple Pencil. The iPad may be a powerful tool, but Procreate turns it into your own digital canvas to paint on whenever you like.
Interface of Procreate vs Illustrator
Procreate was designed to help you work more efficiently. A simple user interface allows you to keep your artwork in focus. For easy control, you can use multi-touch gestures.
The Illustrator interface has a wide variety of windows, tools, and menus (known as Panels) that can be displayed within the Workspace in order to provide quick access to the features needed for a given task.
Overall, the Procreate interface is more user-friendly.
[What is the Right Digital Art Canvas Size? Important things to Consider to Make the Best Choice.]
Price Comparison Between Illustrator vs Procreate
The cost of Procreate is currently a one-time fee of less than $10, while Illustrator is only available through a subscription. It costs $20.99 per month on an annual contract or $31.49 per month on a monthly basis if you buy it alone.
Organization and File Management
The importance of organizing your art projects and design files in the right places is essential for digital artists!
In the Adobe Illustrator workspace, all your design and digital art can be saved in folders. You have a variety of options to view your files. They can be sorted according to the names of a document or when a document was created.
Illustrator uses Adobe Creative Cloud technology, so you can easily save your designs to the cloud. This helps to provide you with a seamless experience using illustrator on any device.
The Procreate app creates and uses the extension .procreate to save your files. These are special Procreate-only files that can only be used in the Procreate ecosystem.
Gestures & Features
Procreate is incredible for digital painting, with a plethora of brushes, tools, and anything else you'll need to generate stunning work. 190 brushes are included with Procreate.
Brushes are available in Illustrator as well, allowing you to stylize existing paths or create new ones while brushing simultaneously.
Procreate will convert all layers to pixels if you use vector objects. You create layers manually, allowing you to paint over or below previous layers, combine them, and more.
Procreate also offers drawing templates. The opacity, thickness, grid size, and Assisted Drawing option are all adjustable. Procreate enables you to add text with ease and share your work with the community thanks to ProcreateFolio.
Adobe Illustrator is a vector-based application, while Procreate is a raster-based program. Illustrator can connect or embed external resources. When the file type is correct, Illustrator will convert them into path layers.
Illustrator has all you need to draw shapes and curves using the pen tool and curve tool. You can fine-tune a line with the Bezier control handles. Illustrator also includes guides that may be adjusted to assist you to align everything correctly.
If your subject is a bit crooked, you can turn on the snap to grid option, which will automatically realign your object. To make straight lines in procreate, you must draw and maintain the line until it is straight.
Illustrator links to Adobe Typekit, a very useful library with over 1,000 typefaces that are included as part of your Adobe subscription
Animation on Procreate vs Illustrator
Unfortunately, at this time, Illustrator does not directly create animation.
However, you can use Adobe's products to construct digital animations that combine Illustrator and Photoshop. You may arrange layers in Illustrator according to groups, which is useful for organizing your assets. Every item in your project has its own layer, which you can group together.
Animation Assist allows you to make frame-by-frame animation using Procreate. Onion skinning lets you see your previous frames as you work on the next clip. The video has many different template options – or you can create your own. Freehand drawing is an available option as well.
[Check out this cool video on Onion Skin Coloring!]
Exporting Digital Art Files from Procreate vs Illustrator
You can share or export your designs from both Procreate and Illustrator using a variety of file extensions. Because Procreate is not a vector program, you can't export SVG or vector files.
Should you get Illustrator and Procreate?
This is really a personal choice. I recommend trying both programs to see which one you prefer for your needs. If you want more control over your work or plan to use it for business, then it's a good idea to have Illustrator and Procreate.
If you're just starting out or are looking for a program that's easy and fun to use, then Procreate is probably what you want. It offers a wide variety of features for digital painting, drawing, and sketching.
For layout, graphic design, and content creation, Illustrator is my go-to program!
Should you use Illustrator or Procreate to make NFTS?
This is a difficult question to answer, as it really depends on your needs. If you want more control over the design and creation of your NFTS, then Illustrator is probably the best choice.
However, if you're looking for an easy-to-use program that offers a wide variety of features, then Procreate might be a better option. Ultimately, the decision comes down to personal preference.
Illustrator is better because…
Illustrator creates vector designs that allow you to scale your artwork to your desired size or dimension. Although Illustrator is available on iPad and smartphones, Illustrator is used most commonly on desktops.
Procreate is better because…
Procreate produces raster images, which means you can't scale your artwork infinitely. However, Procreate gives artists a more life-like artmaking experience and more control over the drawing process with a stylus.
[Related article: 21 Procreate Coloring Pages]
Adobe Illustrator Recap
The app allows you to design logos and mobile visuals, for example, by using a vector-based program that enables you to make numerous modifications. The application includes a number of tools.
Procreate Recap
Procreate is a powerful tool for working with the Apple Pencil and iPad Pro. This program is a wonderful way to create digital illustrations and art.
Frequently Asked Questions about Procreate vs illustrator…
Do illustrators use Procreate?
Procreate is widely used by professionals, including freelance illustrators. Procreate is increasingly being used as an art tool for companies looking for artists.
[Does digitally painting your artwork make it better?]
Is Procreate better than Adobe?
Procreate definitely wins as the cheaper solution. You just need to purchase once and get notified of the next update to the App. It has a limited trial period but this is a modest investment in such an amazing application!
Do graphic designers use Procreate?
In terms of hand-drawn visual arts, Procreate is probably an absolute favorite for illustrators. Other software is specifically designed for graphic design like Photoshop, InDesign, Affinity Designer, and Canva.
Is Procreate good for vector art?
Procreate only supports pixels, no vector is possible in Procreate.
Can Procreate replace Adobe?
Despite Procreate getting all-around great praise it may not replace a desktop application like Photoshop or Illustrator. While this app has a relatively cheap cost, it may cause some barriers for startups.
Is Procreate as good as Photoshop?
This really depends on what you intend to use the app for. Procreate is great for digital art-making, drawing, painting, and typography.
Photoshop is an excellent desktop application for digital artists, photographers, and designers. The new software gives you infinite choices.
[Related Article: How to add text in Procreate]
Is Procreate better than Adobe draw?
Procreate definitely wins because they have the cheapest option. It only requires one transaction and the app can then automatically update to the next version.
Is Adobe Illustrator good for drawing?
Illustrator drawings can be scaled or printed with no loss in image quality. The lines have a clean sharp edge which works great with logos or illustrations.
Do professionals use Procreate?
Procreate is widely used by professionals and Illustrators, which includes freelance artists and those who are more creatively independent. Procreate is increasingly popular in professional applications.
Can you export from Procreate to Illustrator?
You cannot export a Procreate file as a vector, or as a .ai file. However, you can export your Procreate artwork as a .jpeg or. PNG and then open it up in Illustrator. To vectorize your image, you need to create a new layer and trace over the Procreate raster image you imported.
Can you vectorize in Procreate?
Procreate can be created using pixels, vectors cannot be created using procreate.
What is better than Procreate?
Adobe Fresco is considered to be a better app than Procreate because you can vectorize your images.
Is Procreate better than Illustrator?
This really depends on what type of digital art you are making. Procreate is, however, a raster-based application that has its limitations. Illustrator is a vector-based program that gives you more options for your artwork. If you're just starting out, we recommend Procreate. It's cheaper and easier to use. But if you're looking for more advanced features, you'll need to invest in Illustrator.
Is Adobe Illustrator the same as Adobe draw?
In comparing support quality with support, reviewers said Adobe Illustrator Draw was the preferred solution. We opted to choose Adobe Illustrator instead of Adobe Illustrator for better functionality and roadmap.
Is there a Procreate equivalent?
There are over 25 alternative apps for Procreate for various platforms, including iPads and iPhones. Krita is a free open-source project.
Is Procreate owned by Adobe?
Procreate is a raster graphics editing program developed and published by Savage Interactive on iPad OS and iOS.
Is Procreate compatible with Adobe Illustrator?
No, you cannot open a procreate file in Adobe Illustrator. Procreate is a raster-based program and Adobe Illustrator is vector-based. However, you can export your Procreate artwork as a .jpeg or .png and then open it up in Illustrator. To vectorize your image, you need to create a new layer and trace over the Procreate raster image you imported.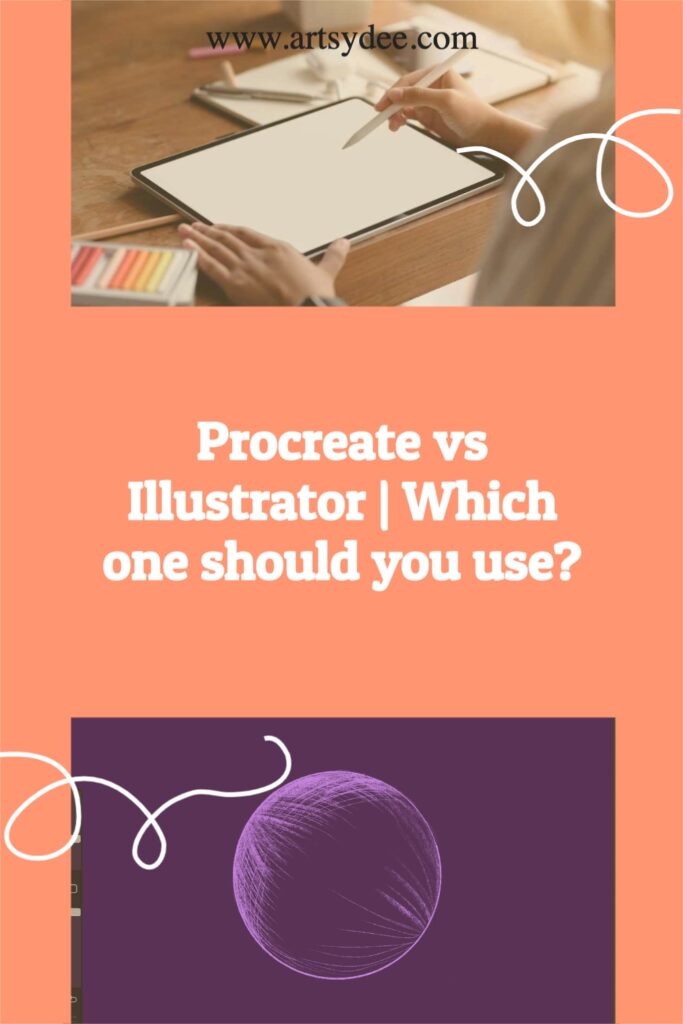 Conclusion
So, which app should you choose for your next project? Procreate vs Illustrator? If you're looking to create high-resolution illustrations with intricate details and a realistic style, go for Procreate.
If you need more flexibility when it comes to vector graphics or wants to experiment with a huge range of design options, Illustrator is the better option.
Whichever app you decide on, have fun and let your creativity run wild!
Other articles you may enjoy…
[How to color match in Procreate | Easy Steps!]
[5 Free Skin Tone Collections | Free Procreate Color Palettes]
[Looking for a cheap drawing tablet with a screen?]
[What is the Right Digital Art Canvas Size? Important things to Consider to Make the Best Choice.]